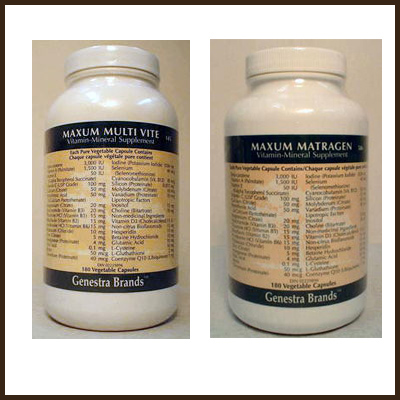 Health Canada is advising expectant mothers and breastfeeding women not to take the vitamin-mineral supplements Maxum Matragen or Maxum Multi-Vite by Seroyal International Inc. Maxum Multi-Vite has been approved as a vitamin-mineral supplement for only the general public but lacks the required cautionary statement on the label regarding pregnant and/or breast feeding women. The product Maxum Matragen is being promoted by the company as a prenatal supplement; however, neither product has been authorized for sale by Health Canada for use by women who are pregnant or breastfeeding.
Both products contain ingredients such as Ginkgo biloba, Green Tea Extracts and Vanadium, whose safe use during pregnancy or in breastfeeding women has not been well established. Products containing these ingredients require a cautionary label warning consumers to consult with a health care practitioner prior to use if they are pregnant or breastfeeding, neither Maxum Matragen nor Maxum Multi-Vite carries such a warning on their labels.
In addition, the daily doses as labelled for Maxum Matragen and Maxum Multi Vite do not provide the minimum recommended daily dose of 400 mcg of folic acid and the recommended 16-20 mg of iron for expectant, pregnant and breastfeeding women.
Health Canada has not received any adverse reaction reports associated with Maxum Matragen and/or Maxum Multi-Vite. Pregnant or breastfeeding women who may be taking Maxum Matragen or Maxum Multi-Vite are advised to consult their health care professional prior to continuing use of these products.
The company Seroyal International Inc. has voluntarily recalled these products from the market.
Please visit the Public Health Agency of Canada's website for more information on healthy living during pregnancy.
Consumers requiring more information about this advisory can contact Health Canada's public enquiries line at (613) 957-2991, or toll free at 1-866-225-0709.
---