The Canadian Food Inspection Agency (CFIA) is notifying the public that Heinz Canada has conducted a voluntary recall of six varieties of their popular squeeze pouch baby food products. The pouches, they say,  may contain a packaging defect that may allow the entry of spoilage microorganisms.
Health Canada has reviewed the information related to these products and conducted a health risk assessment. Health Canada concluded that the health risk associated with the consumption of these products is very low to remote.  It is important, however, for parents to check their cupboards to ensure they don't feed these products to their children.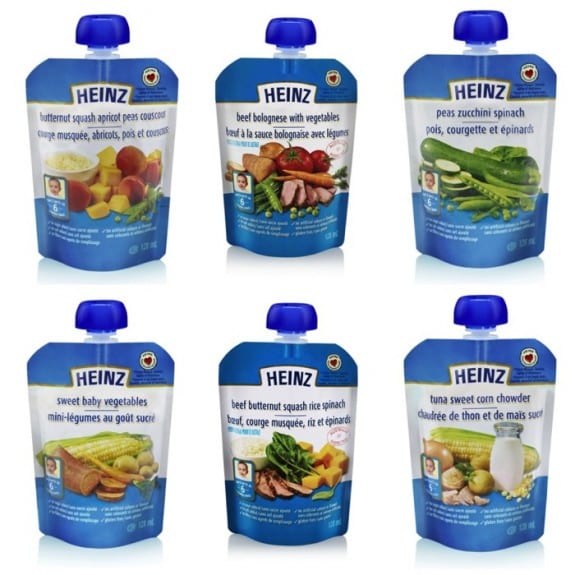 * HH:MM indicates the time
Brand Name
Common Name
Size
Code(s) on Product
UPC
Heinz
Peas zucchini spinach
128 mL
06/11/14 HH:MM*
2203+0 8EX EX57
0 57000 03423 8
Heinz
Sweet baby vegetables
128 mL
05/11/14 HH:MM*
2193+0 8EV EX57
0 57000 03424 5
Heinz
Beef bolognese with vegetables
128 mL
24/12/14 HH:MM*
2683+0 8GN EX57
0 57000 03420 7
Heinz
Beef butternut squash rice spinach
128 mL
23/12/14 HH:MM*
2673+0 8EY EX5723/12/14 HH:MM*
2673+1 8EY EX57
0 57000 03421 4
Heinz
Tuna sweet corn chowder
128 mL
07/11/14 HH:MM*
2213+0 8GV EX57
0 57000 03422 1
Heinz
Butternut squash apricot peas couscous
128 mL
05/11/14 HH:MM*
2193+0 8EW EX57
0 57000 03425 2
The CPIA notes that spoiled packages may not be necessarily dangerous or easily identifiable. However, if spoiled food is inadvertently consumed, it is advisable to watch for symptoms that may include upset stomach, vomiting, and diarrhea.
Heinz reports that there have been no reported illnesses associated with the consumption of these products.
For further information, consumers can call Heinz Canada at 1-888-570-1675 or email them at HeinzCanada@Stericycle.com.