After Five-year-old Alex Olver was not found sleeping in his bed, his mom called the police and a massive search ensued.
His bedroom was searched by 11 different people – but not one of them saw the boy sleeping under the bed. In fact, it was a sniffer dog which finally unearthed him.Miss Olver of Saltash, Cornwall, said: "I called for Alex, to get him ready for bed, but then realised he was not with the rest of the family.

"A few of us searched the house then moved outside to the street, which I ran along calling his name. By this stage, I was feeling frantic and lots of the neighbours were coming outside to see what was the matter.

"I called the police and a squad car arrived very quickly. They also searched the house. Word must have travelled very fast and soon there were scores of people outside all asking how they could help."

Miss Olver – who said her son "sleeps like a log" – said seven helpers and four police officers had turned the house upside down looking for Alex.

But it was two hours before the 35-year old school dinner lady and her former partner Shaun Snell saw their son again.

Miss Olver said: "The dog handler went upstairs. I then heard him shout, 'Look what I found!' and he came downstairs with Alex asleep across his chest. We woke him up and when we told him what had happened, he said he wanted to see the police helicopter.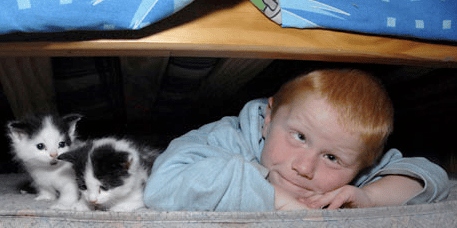 Could you imagine how embarrassed this family is? Sometimes when Chaotic things are happening you can overlook the obvious…
---
[ad]