He is more used to delivering parcels, but one hero postman made sure that he did not drop two precious little boys when their father tossed them from the third-floor fire escape of a Bronx apartment house that had caught fire.
Jermaine Shirley, 30, delivers the mail in Greenwich, Conn. and is a third floor resident of the same building at at 870 E. 220th St. in Williamsbridge. On Wednesday morning at around 7.00 am he smelled smoke and noticed the blaze.
Jermaine rushed to ensure his family was safe and once they were out of danger, he climbed on to the roof of an attached shade to see if the others were okay.
It was then that he saw 32 year old Everdean Codner on a third floor fire escape with 11 month old twins Israel and Ishmeal Codner.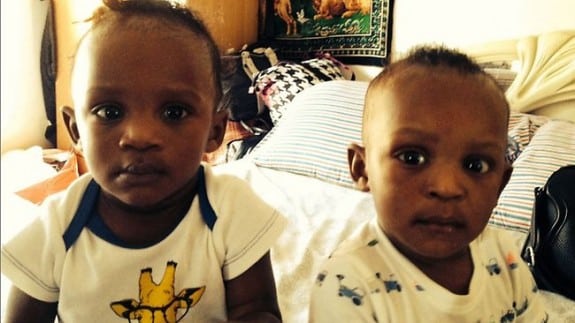 "I was ready to catch. One of them, he kind of flipped a little because he was in a full 'onesie' suit, but I catch him," Shirley said.
Everdean tossed the other baby next and the hero neighbor made another life saving catch.
"They dropped the babies down and I catch them. I just thank God that everyone is safe – my wife and kid – everyone is safe. I would want everyone to do the same for me," Shirley said.
Meanwhile Codner's nephew had already escaped the blaze and was on the ground. Jermaine gently handed the twins to him and climbed down.
The kid's dad jumped from the fire escape to the roof and saved himself.
The grateful dad said,
"I thank Jermaine for saving my babies. Now I have a second chance to be a father to my sons," said Codner.
He says that the smoke was very heavy and was pushing them back inside.
"The smoke was heavy, it pushed us back inside. I wanted to get my babies out and I ran to the fire escape. I just dropped them. Thank God they are okay," he said.
The apartment houses six families and is three-storied. Three residents suffered minor injuries including two children but the infants were safe.
Dozens of firefighters had the blaze under control by 7.49 am
---
[ad]