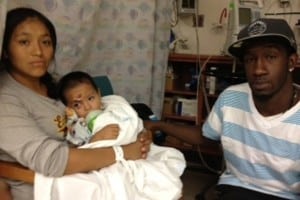 When you have multiple children, getting distracted is pretty much a given. But sometimes, that distraction can prove to be a potentially fatal situation. Such was the case when an infant's stroller blew onto the subway tracks in Brooklyn.
According to one witness, the mother had parked the stroller on the platform while waiting at the subway, but she had forgotten to apply the brakes and had turned away to tend to her three other children sitting on a bench. Suddenly, the wind picked up and blew the stroller, along with her nine-month-old child off of the platform and straight onto the subway tracks, right into the path of an oncoming train.
The mother could do little to save her child, as she appeared to be "frozen in shock," according to onlookers. But thankfully, a Good Samaritan was standing nearby. Without any thought of his own safety, the man leapt onto the tracks. The train operator noticed the man and toddler in the tracks and honked the horn. With the sound blaring, the man managed to scoop up the toddler and stroller up and place them safely back on the platform and then pulled himself out just moment before the train reached them.
"When I looked over, a man had jumped on the tracks to get the baby already. He didn't even hesitate," said Khalima Ansari, 21, a witness to the heart-stopping incident. "They see the train coming. He didn't even care. He jumped down to get the baby."
Anasari said that the boy was bleeding and moaning in pain from the fall, but he was alive.
"The baby had a big gash on his forehead. You could see his skull," Ansari said.
Shortly after the fall, the baby was taken to Brookdale University Hospital for cuts to his face and head. The boy's father gave a statement while at the hospital.
"He's OK…We are thankful," he said. When asked about the Samaritan, he responded, "We don't know who helped us."
Not long after this story vent viral Brooklyn native Delroy Simmonds, an unemployed father of two, came forward as the hero who saved the baby. At the time, he was on his way to a job interview.
"I've been looking for a job for a year and change," Simmons stated. "I'm looking for something to support my family."
But he ended up missing his job interview that day, and for good reason: he was busy saving an infant's life.
"A strong gust of wind blew. It had to be 30, 40 miles an hour," he recalled. "There was a woman with kids. One was in a stroller. The wind blew the baby onto the tracks."

"I jumped down and I snatched the baby up," he said. "The train was coming around the corner as I lifted the baby from the tracks. I wasn't really thinking."
Yet despite his heroic actions, Simmonds says he's just a regular guy looking for a job.
"Everybody is making me out to be some sort of superhero," he said. "I'm just a normal person. Anybody in that situation should have done what I did…It was fatherly instinct. I have two daughters of my own – 8 and 5. I was being a father. I would have done it for any baby."
Simmonds left as soon as the baby was safely with his mother, but he ended up missing his train to his interview for a position that may have led to his first job since being laid off as a vocational trainer for the mentally disabled. He says that another interview has been scheduled for Wednesday. He's just hoping to make it there.
"What I really need is a job," he said.
Instinct or not, his actions were nothing short of heroic. I hope he gets his job. He sounds like a man that would do anything for his children, and his willingness to lay his life on the line for the life of a child that he doesn't even know should make for a really amazing resume! Good luck Mr. Simmons!
Related Articles:
---
[ad]