Hilary Duff is ready for the holidays and so is her bump! With some help from her sister, the actress decorated her growing tummy for the holidays and then tweeted the shot saying,
Happy holidays from the three of us!! @HaylieK what would I do without you and your artistic ways!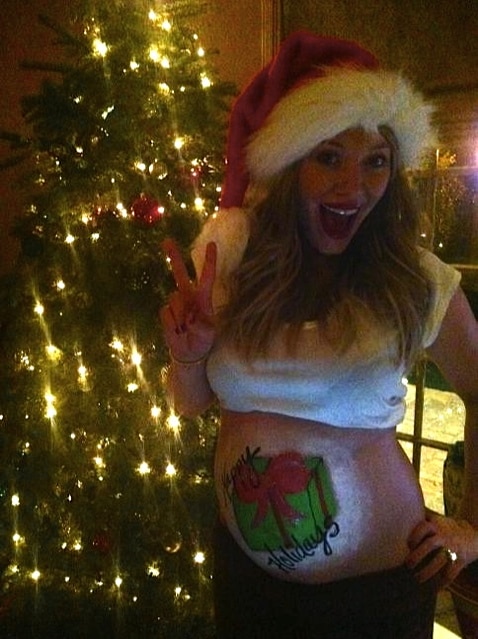 The actress, who is pregnant with her first baby, was also spotted out getting some last minute shopping done in LA yesterday.
Hilary recently spoke to E!online about how exciting her pregnancy has been.
"I think it's such a miracle," Hilary said. "I feel so lucky that I've had an easy pregnancy and hope it stays that way. I think feeling the baby move and getting those little kicks…seeing it happen through your shirt or looking at your belly, it's like, wow, there's a life inside of me. It's a piece of my husband and me and it's really wild. It's really exciting to think about the future and also a little scary…but so exciting at the same time."

"We're giddy when we talk about it," Hilary went on. "We daydream about what our future is going to be like and what our child is going to look like and the little personality it's going to have. I think that's the craziest part."
---
Related Articles:
{PACIFIC COAST NEWS}
---
[ad]