No mother can attest to parenting being easy – at least not any that I know – and Hilary Duffis no exception. But, as most moms also know, Hilary included, the joys of motherhood make all that work so wonderfully worth it.
The singer's journey into motherhood, like most mothers, started in the delivery room. She says that her delivery wasn't very painful.
"It was very easy," she  told Ellen DeGeneres last month "I went into labor at about one in the morning and I very calmly had my bags packed and woke my husband up after about three hours of walking up and down my hallway. Then I'm like, 'OK, it's time to go, let's go now.' We got in the car and drove to the hospital and that was it."
Hilary also said that her delivery could have been the latest and greatest movie as far as her mother and sister, Haylie, were concerned. While waiting for Luca Cruz to arrive, they decided they were hungry and took a trip on down to the hospital food court for snacks. By the time they made it back, it was time for Hilary to push.
"Things start rolling and all of a sudden, the doors bust open and my mom and sister come flying in," Hilary said. "They're like, 'We got barbecue chips and root beer, guys!' I'm like, 'What? I'm pushing!' They were just arriving for a show with their chips and root beer."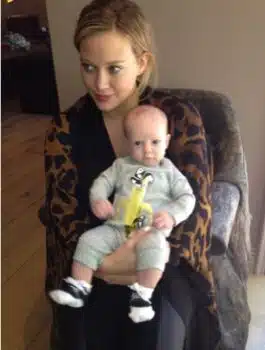 She and husband Mike Comrie's journey continued in the next few weeks of motherhood where Hilary tweeted about the early sleep deprived weeks.  "This job is no joke!," she tweeted recently.
But the work has definitely paid off. She says that the birth and parenting of baby Luca has brought her and her husband closer together.
"It's made [our marriage] stronger," Hilary told Hollyscoop "Having a baby is a lot of hard work and you really depend on each other for a lot. There is so much love…you can't imagine it until it happens to you and you look at your husband and you're like, 'We did this together.' It's really a beautiful thing and we are enjoying it. There are no words…There is so much purpose now, there was before, but it is just on a whole other level. There is so much joy and excitement every single day."
And that job may be getting a bit easier because Luca is getting a little older. That, and he's sleeping through the night. Hilary joked about how other moms may hate her for that, but she presents the wonderful news in a way that offers hope to mothers who are still trudging through the first few weeks of life.
"He's sleeping, which is incredible," she said on Ellen DeGeneres' special Mother's Day show. "I feel weird, because it seems like I'm bragging, but he sleeps from 11 p.m. to 6 a.m. It is possible, ladies! It didn't happen right away, but the past three weeks, he's been an 11 to 6er."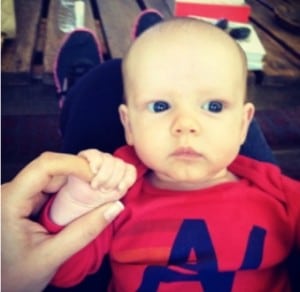 Yet, despite the obvious happiness of the proud parents, Hilary and Mike have chosen to post only personal photos of little Luca. He hasn't been seen in any tabloids and they haven't sold rights to any of his photos. When asked why, Hilary shared that it's really just a personal choice that they have made as a family.
"I understand why people sell photos and hopefully give the money to charities. We got those offers, too, and I just didn't want to do that," Hilary admitted. "This is our child and we really wanted to start off protecting him. I tweeted pictures of him and showed him to the world in that way, [but] we are trying to give him the best chance to have a normal life."
Now, it seems that her biggest challenge (like many moms) is losing the baby weight. She has a few things going for her though that should help her shed some of those pounds.
"I spin a lot," Hilary admitted. "I am really addicted to spinning and I just started doing circuit training with my trainer and I do Pilates and I am active. I hike. I live in a community that has a lot of hills, so I am pushing Luca around a few times a week [when] we go on a hike."
And even though Luca is just 10 weeks old, Hilary shares that they are already thinking about baby number two, but she also says that they won't be planning any time soon.
"Of course, but we are going to enjoy this one first," she said.
Related Articles:
---