Step2's Whisper Ride car was our go-to for many years when my boys were little. Perfect for the park, it was great because kids could 'drive' while you controlled where the went. The only issue we had was that it only held one of my kids at a time, and while I am talented I could not push two of them at once.
Now, Step2 has taken outdoor ride-on toys to the next level with the side-by-side design of this double ride-on!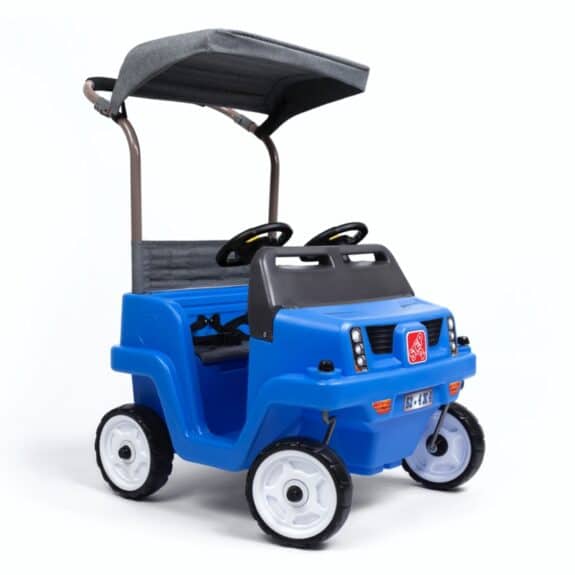 Two toddlers can ride comfortably in the all-new Side-By-Side Push Around SUV by Step2, each with contoured seats and lots of legroom.
From the realistic off-road SUV styling to the large wheels with swivel steering and extra storage under the seat bench, this double ride-on toy has so many features that add excitement to any adventure. Kids can buckle up with the two seat belts and fold the adjustable canopy down to lock into place for a shaded ride.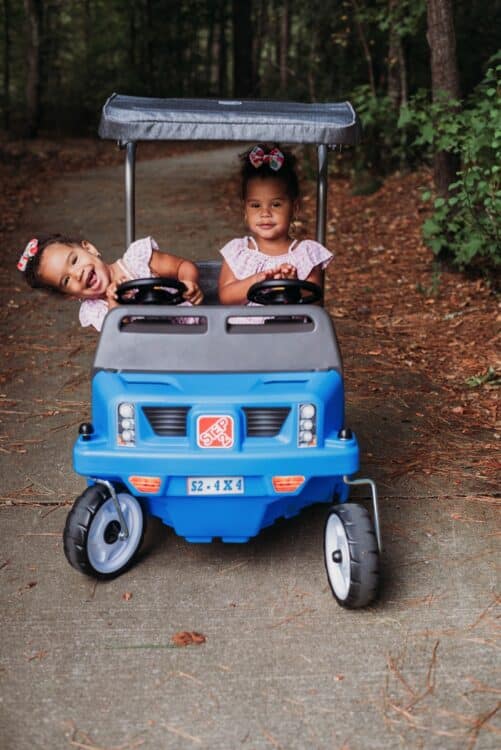 Little ones can even pretend to drive their off-road dune buggy, each with their own steering wheel! There's even extra storage for parents, too; store trip essentials in the mesh pockets on the back of the canopy base. With this double-sided ride-on, walks around the neighborhood and beyond are an adventure.
Product Features:
Maximum weight per child in ride-on: 50 lbs. (22.67 kg.)
Made EverToughTM, this double-seater ride-on toy is uniquely indestructible, ready to outlast

hours of playtime fun!

Adult assembly required.
In the box: Double-sided ride-on base with bench seat, four large wheels, canopy with

hardware, two safety belts, and two steering wheels.