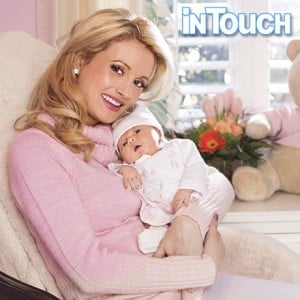 A mom for just a couple weeks, Holly Madison beams in this week's In Touch Magazine as she debuts her little princess.  Dressed in a pale pink sleeper and cap, Rainbow Aurora looks like a doll in her mom's arms.
Weighing in at  7 pounds, 2 ounces, the newborn was born in Las Vegas just before midnight on March 4th.
"Just holding her is so much fun," Holly gushed to the magazine. "Even the delivery was easy — I was actually laughing as I was pushing!"
The baby's unusual name sent the internet wild, but Holly reveals it came from a former schoolmate.
"I was always envious of her name!" explains the new mom, who ignores the jabs. "If getting teased about her name is the worst thing that's going to happen to her," says Holly, "bring it on."
For now, the former playmate and her partner Pasquale Rotella are basking in their new parent glow.
"Like all babies, she has her moments. But I'm so in awe of her that I even think her screams are cute!"
In fact, she wants to keep up with the Jolie-Pitts.
"We want Rainbow to have lots of brothers and sisters. I'd love to have six!"
---
[ad]