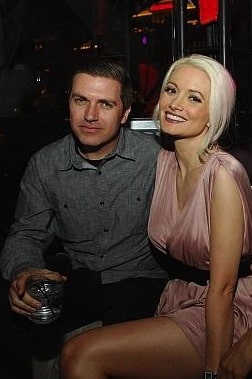 Exciting news in Las Vegas tonight.  Holly Madison and partner Pasquale Rotella have welcomed their first child!  The former Playboy Playmate announced the news exclusively to Intouch Weekly saying,
"Pasquale and I welcomed our first child, a baby girl!  We haven't yet decided on a name for her but we couldn't be any more overjoyed than at this moment."
Weighing in at  7 pounds, 2 ounces, the little girl was born in Las Vegas at 11:59 a.m. on Monday evening.
"I've never been more in love than I am today as, after months of waiting, I finally was able to hold my daughter for the first time," Pasquale told In Touch. "Holly and I are looking forward to spending some quiet time with our baby and enjoying our new family. I'm truly the luckiest man in the world."
Just last week Holly shared that she was planning to capsulize her placenta after the baby arrived.
This might sound gross, but I'm totally planning on having my placenta turned into pills I can take after giving birth. I heard it helps women recover faster and I want to recover as quickly as I can!
Congratulations to the couple. We can't wait to meet their little princess!
{WENN, INFPHOTO.COM}
---
[ad]