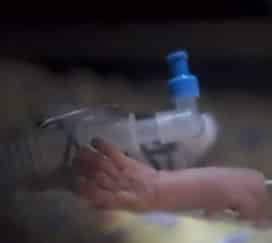 All preemies have more than their share of obstacles to overcome, but the smaller and more premature a baby is, the more they must fight to survive. Harley Gulliksen's parents know this better than most.
Born at 27 ½ weeks, Harley weighed just 15 ounces and was just ten inches long. Though born only 13 weeks before her due date, Harley measured closer to the size of a baby born at 22 or 23 weeks. Her little feet were just a little bigger than the size of a quarter, and her little arms were shorter than the average adult's pinky. She was so tiny that she is now the smallest surviving baby to ever be delivered at Legacy Salmon Creed Medical Center.
Harley's broken some other records at Legacy hospital. She spent 149 days in Legacy's NICU unit – longer than any other surviving baby. And, a couple weeks after birth, she spent 33 days on a ventilator fighting off an infection and healing from a collapsed lung.
"She has spent the most time on the ventilator for any baby we've cared for here at Salmon Creek," Dr. Bret Freitag, the NICU medical director told The Columbian. "We managed to get her through a couple of really rocky periods."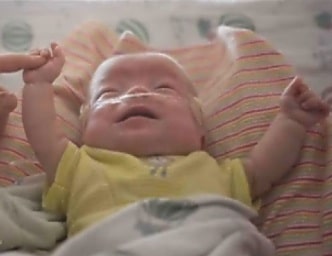 But those rocky periods came with some pretty amazing milestones, milestones that were laminated and on display for all to see during her stay at the NICU.
"Central line in for 47 days and remained infection free!"

"24 days on the ventilator and remained pneumonia free!"

"Nippling entire bottle!"
That last one, her feeding, is the one that she seemed to do best at.
For about 2 ½ months, Harley was fed through a tube. But once she was able to eat by mouth, she picked it up quickly, Freitag said. And, as a result, Harley has made consistent gains on her weight.
"It's crazy seeing how much she's grown compared to what she was," Harley's dad, Mitchall Culliksen, told The Columbian. "She's just gotten bigger and bigger."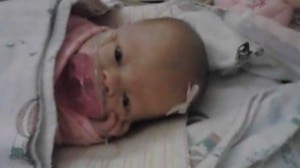 But even despite her gains, Harley's still a little on the smaller side. Now, at nearly 5 months old, she weighs 7 pounds, 6 ounces – about the same as a full-term newborn. And she's now measuring at 17 ½ inches, about the size of a baby born at 33 weeks. Doctors believe that smaller size may be due to skeletal dysplasia, a condition that causes the bones to grow and form abnormally.
"Her arms and legs and, really, her whole body are shorter than normal proportions," Freitag said, adding that she'll likely always be smaller than other babies her age – even those that were born around the same time as her.
Genetic testing later on will determine what type of skeletal dysplasia Harley may have, and if it will have any further complications for her in life.
But that tiny size doesn't dampen Harley's feisty personality.
Though only time will tell whether or not she'll be able to walk or talk or learn well, she's already started tracking with her eyes, smiling and making body movements – activity that is typical to a baby around the age of 2 or 3 months. She makes bubbles with her mouth, coos when she's happy and kicks her legs. She squirms and fusses, but doesn't cry all that often.
And when her parents try to tickle her arms or feet, she gives them an evil eye. When she closes her eyes, she smiles. But when mom and dad try to make her laugh, she refuses to smile. She's not very fond of hats, but she does love her bouncy chair and bath time.
Now, after breaking so many records and making so many gains, it's time for Harley to go home with her parents. But there will still be oxygen and medication, possibly for as long as six to 12 months, according to Dr. Freitag.
"Her lungs can grow and get better and resolve some of these problems with time, but it's going to take quite a while," he said. "Babies born this early never have 100 percent lung function."
Harley's dad and mom, Tiffany Burril, are just looking forward to finally having their little girl home. Although, they do admit that they're little nervous, they say they're also excited about celebrating all of Harley's new milestones and achievements.
"I'm really excited, but it's almost unreal because it's been so long," Tiffany told The Columbian. "It's been difficult. But it's been fun too, watching her get bigger and stronger and prove all the doctors wrong."
Related Articles:
---
[ad]