Tis the Season to eat, drink and be merry! Last Saturday night I had the pleasure of joining some of my favorite bloggers and local moms at Lena, from Listen to Lena's house to preview some of the hot toys for the holidays at her 'pop up' Fisher-Price Showroom. How fun is that? The best news, however, is that many of the toys below are being donated to charity for the holidays.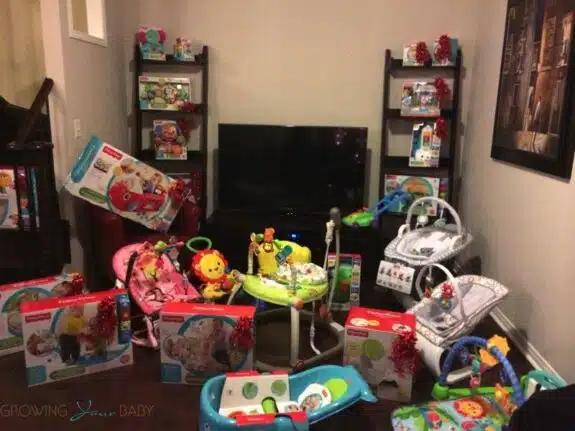 For the past few weeks I have been running around like a mad woman trying to finish my holiday shopping so the night out was some welcome time away from the hustle and bustle of the season.
Good food, good friends and lots of exciting toys – this is my favorite way to work! Because even though the mood was light, I was checking out what Fisher-Price has for little ones this Holiday Season.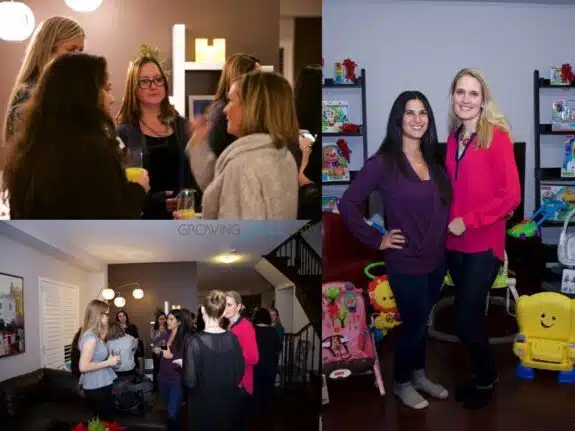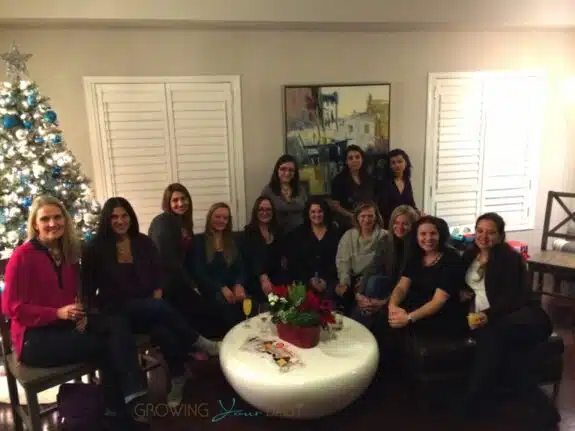 Often aunts, uncles and grandparents ask me for ideas on what to get for a new baby in the family. If you don't have kids – or yours are out of the stage – choosing the right gift for a little one can be a daunting task.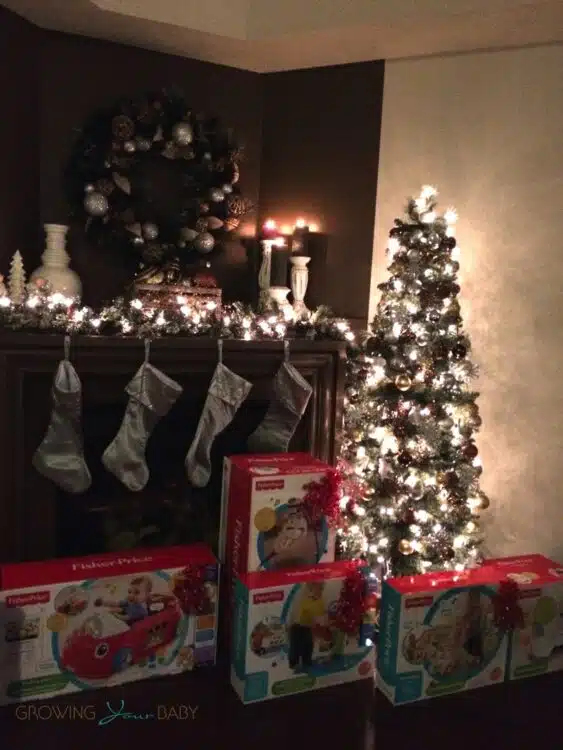 To help, I have narrowed it down to my top 5 gifts that are perfect for babies birth+!
First up is the Fisher-Price 3-in-1 Bounce, Stride and Ride Elephant. I absolutely love this toy because it grows with your child, while helping them master the skill of walking. The seat bounces, it plays music and kids can zoom all over the house on it. Plus, it's so stinkin cute how can you pass it up?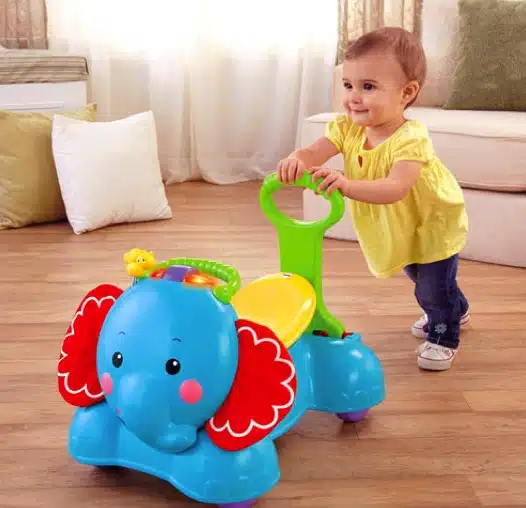 The Go Baby Go! Poppity Pop Musical Dino is an adorable floor toy that includes 6 brightly colored balls that swirl and pop in the dino's belly. It plays over 8 fun tunes and silly sound effects, and helps little ones start to understand cause and effect.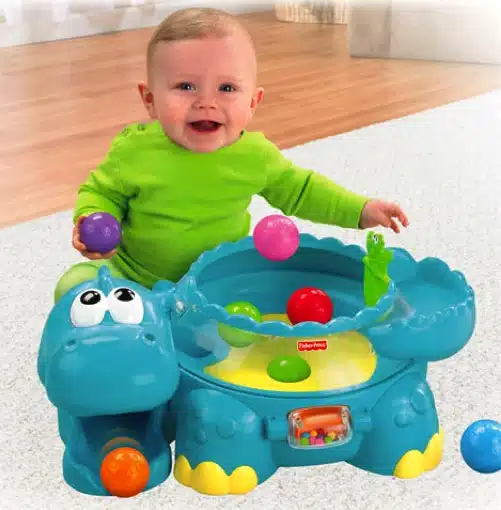 The Smart Stages Vacuum. Even though I know the yellow Smart Stages chair is taking over the world, I love the vacuum because it was always a favorite for my kids. In fact we still have our classic Fisher-Price vacuum in the basement and they still pull it out when it's time to do housework. For 2014 Fisher-Price has updated it to include their new Smart Stages technology, 30+ sing-along songs, tunes & phrases and flashing lights!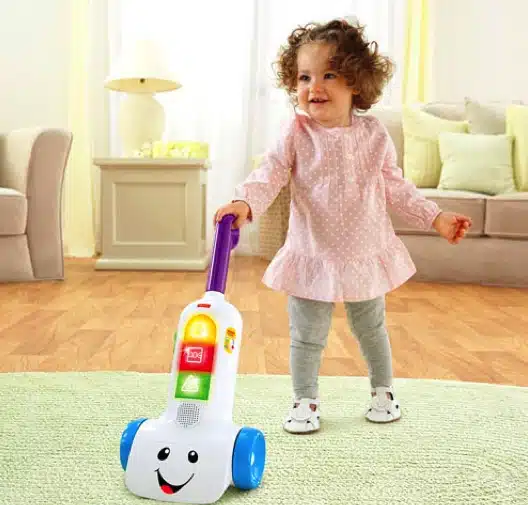 Rainforest Friends Musical Lion Walker. This walker doubles as an activity center. Open at the back, toddlers can hold the handle and cruise around the house or sit in front of the lion's head and play the piano, check themselves out in the mirror of spin the balls in his ears!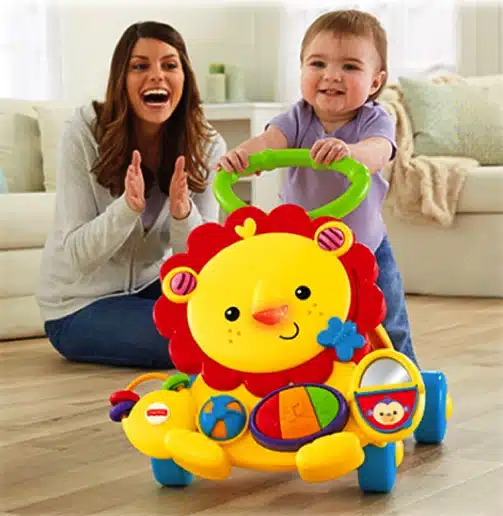 Smart Stages Crawl Around Car. We reviewed this car last month and I love it! It was one of the hottest toys last year and it continues to be a huge hit with little ones. Both inside and out there are a lot of great activities to keep little ones busy! Even though it has wheels, it doesn't move, but kids can still pretend they are navigating their neighbourhood with all of the features on the dashboard. Plus there is a shape sorter on the drivers door and a ball roller on the passenger's side.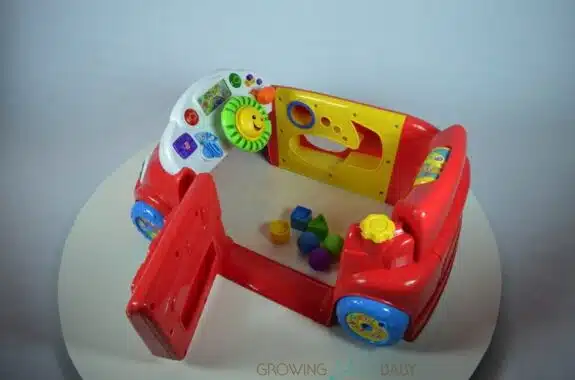 Honorable mentions for baby gear!
Fisher-Price Comfort Curve Bouncer. Debuted this Fall, the comfort bouncer is a departure from what we have seen from Fisher-Price in the past. The wire frame has been replaced by a sleek curved frame that is paired with gorgeous modern prints. There are also so cute woodland friends on the toy bar that baby can bat at and play with. Love. This. Bouncer! And it's only $49.99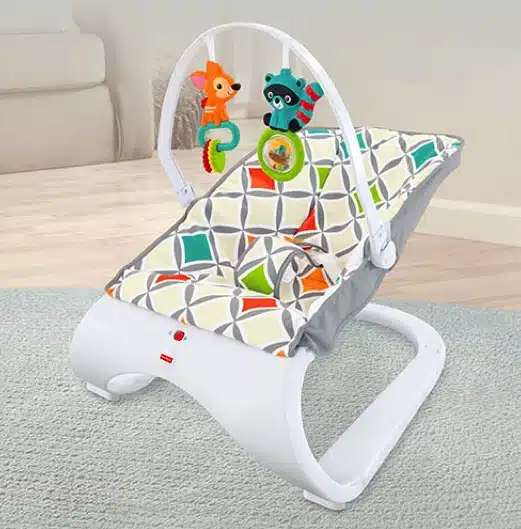 4-in-1 Rock 'n Glide Soother. Famous for their two-way swings, Fisher-Price has introduced a new product that will change how parents buy their gear. Gone are the days when you purchased 3 or 4 pieces of gear to soothe your baby. Now Fisher-Price has incorporated all of that gear in one fabulous package! The 4-in-1 Rock 'n Glide Soother offers four different rock 'n glide motions to help soothe your baby. Parents can chose to rock or glide head-to-toe or side-to-side. It also has three gliding speeds, two reclining positions, calming vibrations, 12 songs & 3 soothing nature sound effects!
Please visit Fisher-price.com for more great options!
---