One of the most classic gifts for kids to receive is a baby doll. Their own little person to love and take care of, a recent study found that playing with dolls encourages children to talk more about others' thoughts and emotions. Additionally, playing imaginary games with dolls could help children develop social skills, theory of mind, and empathy.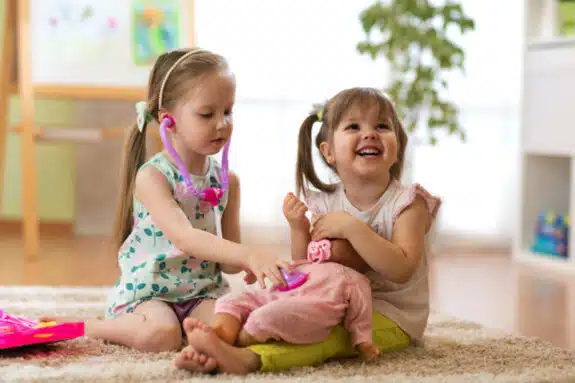 There are so many baby dolls to choose from on the toy shelves it can be tough to pick the best one.
We're here to help! We've rounded up our top 10 brands and their collections.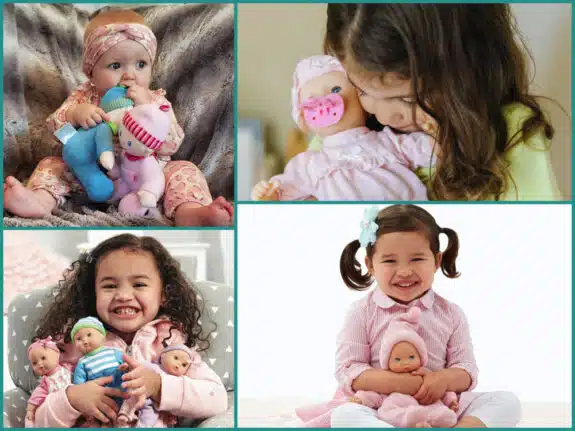 For more than 40 years French company Corolle has been making dolls for kids to love and care for all over the world. They create babies for kids of all ages with styles designed for each age and developmental play. Their collections include ethnicities from all around the world, a large variety of beautiful clothing options, and many playsets to extend the experience.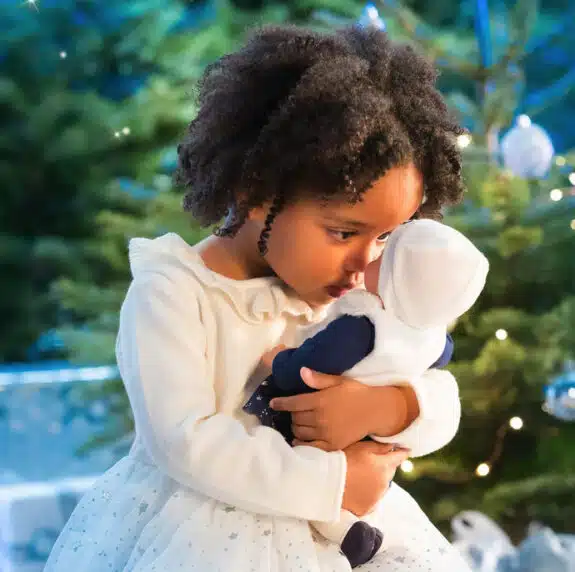 Their Miss and Babipouce collections are soft and small enough for little hands.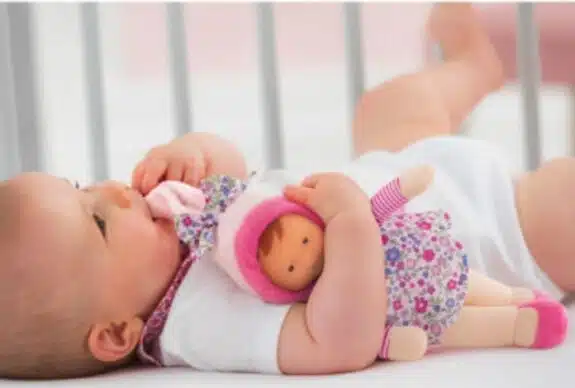 As your child gets older the mon premier poupon line is created with 12-inch baby dolls that have pretty, realistic faces with sleeping eyes. They're the perfect size to be cradled in a child's arms.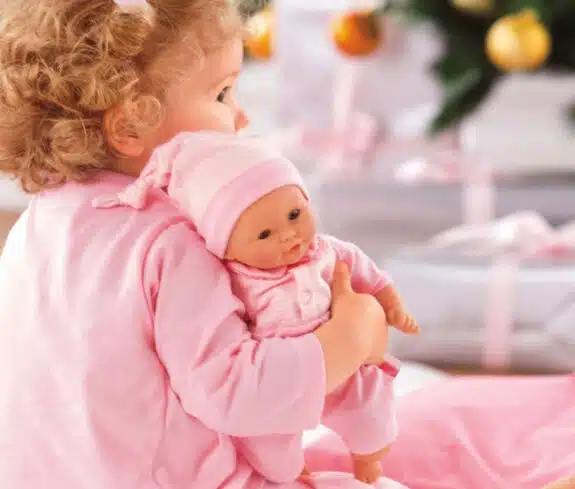 From three years+ they have babies whose hair can be brushed. Corolle offers beautiful clothing and accessories so your child can play out real-life scenarios: dressing and undressing the doll, taking it for a walk, feeding it, while sharing stories with it.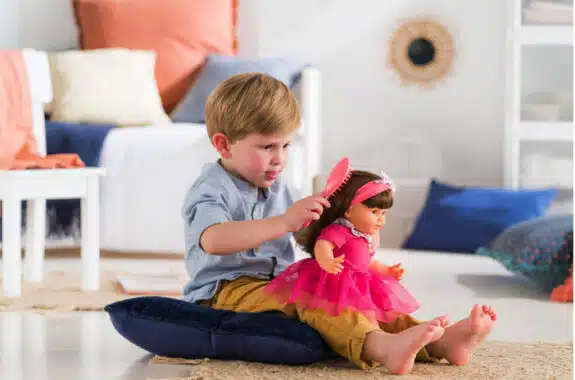 As a bonus, they have a vanilla smell that is unforgettable.
Founded in 1923, The Madame Alexander Doll Company is well known for its iconic collector dolls that bring history, film, and literature to life. Not just a company that creates museum-quality designs, they also have a few collections for little ones.
Little Cuties are great for those occasions when a child's full-size baby needs to stay at home but they still need a friend by their side. Soft, and cuddly, these 8" babies have a soft fabric body with molded heads and limbs. The doll wears a removable printed jersey knit outfit with a headband.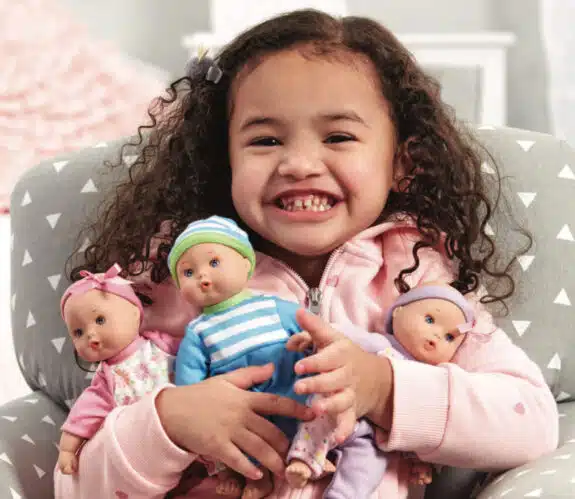 My First is a line of cute and cuddly 12″ newborn baby dolls with soft fabric body and vinyl face and hands that is ready to be hugged.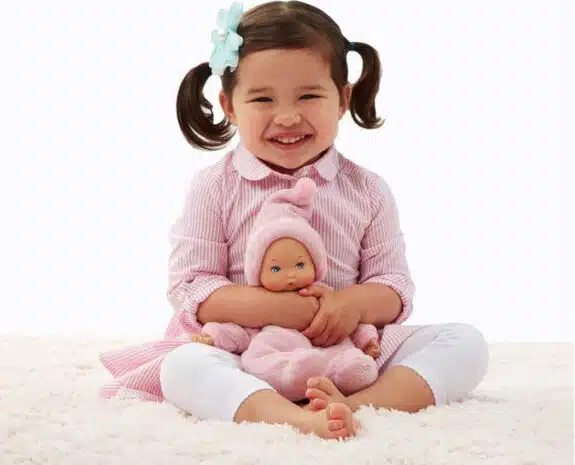 Designed for toddlers 2+ the 16″ Newborn Baby doll has fixed eyes, soft skin, and delicate features. The set includes a cozy blanket, pillow, and an adoption certificate for your child.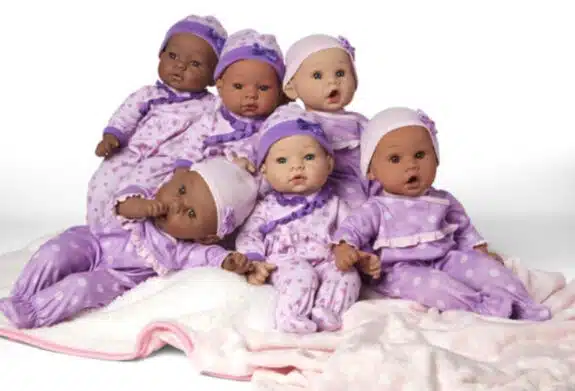 Also created for kids 2+, My Little Girl has a soft body, a weighted bottom, and molded head, legs, and arms so it feels so real to your child! Her hair is beautiful with its charming curly pigtails and knotted pink headband. The baby's gently smiling face has sleepy eyes, she comes dressed in a sweet polka dot pinafore, long-sleeve tee, and pink leggings. The doll comes with a comb and a brush.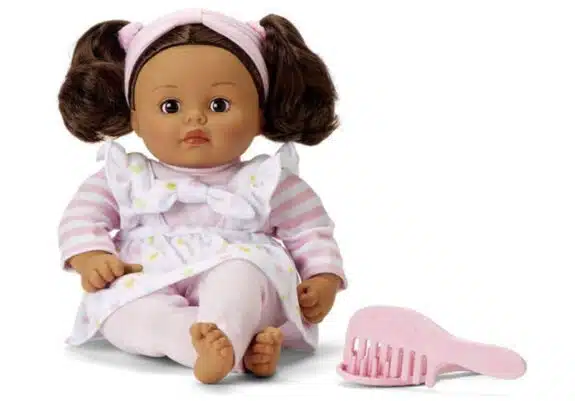 Madame Alexander also offers Babble Babies, Huggums, Sweet Baby Nursery and Peekaboos for kids.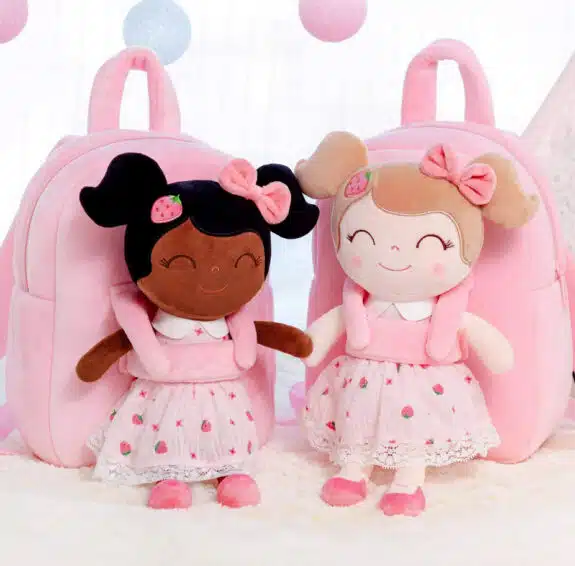 Leyadoll creates a selection of soft dolls that you can personalize and accessorize. This sweet collection offers something for boys and girls along with customized styles for the holiday.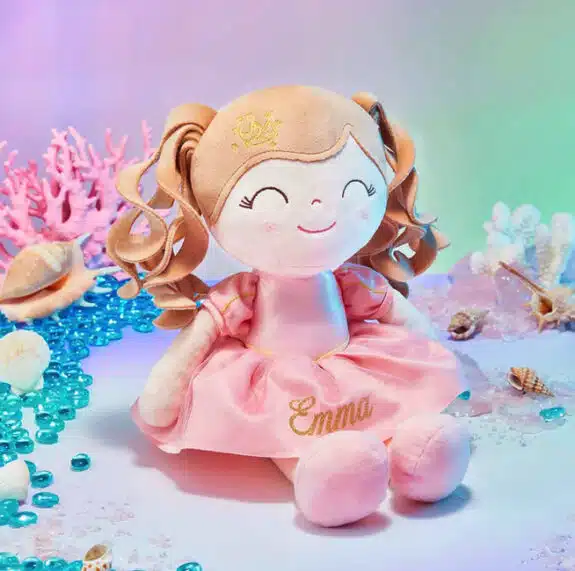 You can choose from a ballerina, princess, or superhero with different skin colours, outfits and hair colour.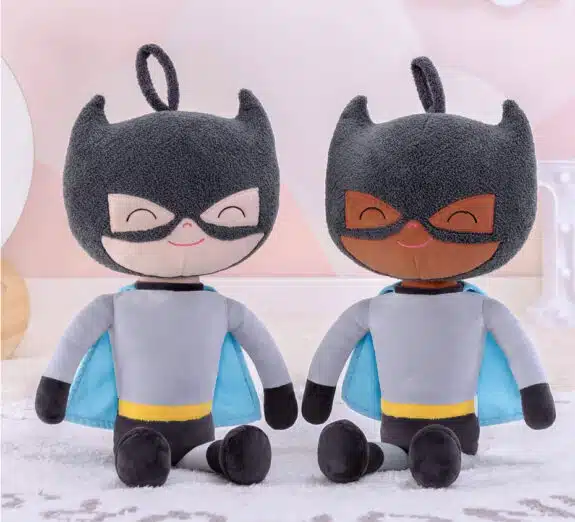 From one year+, Adora has a collection of babies for every stage. Their 13-inch baby doll is designed with removable soft-to-touch pajamas, eyes that open and close when she lies down, plus her mouth is slightly opened, so she can suck her thumb or drink from a bottle. She has a 12-ounce bean bag weighted body that gives her that cuddly, lifelike feel.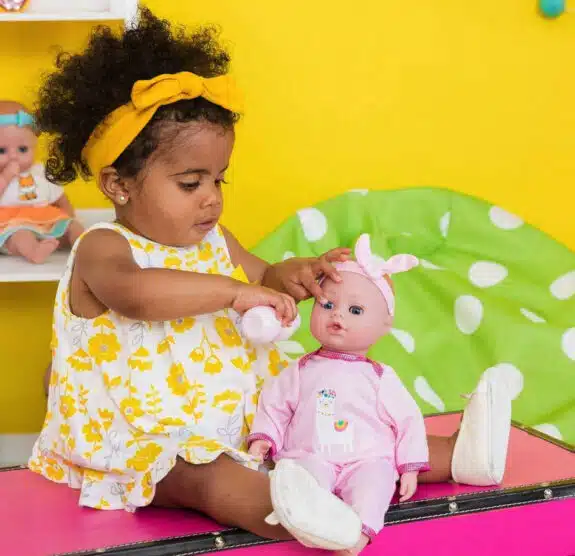 Their Cuddle & Coo Sweet Dreams is a 15-inch interactive doll with a soft and cuddly body and limbs with fresh baby powder scent safe for kids 3 and up. This Sweet Dreams' adorable features make her a truly lifelike doll: squeeze her hand and she'll cry, but don't worry, a simple pat to her head will make her coo with happiness. Tickle her tummy and she'll start giggling. Give her a kiss on the cheek and she'll kiss back. Pat her head and delight as she calls you "Momma".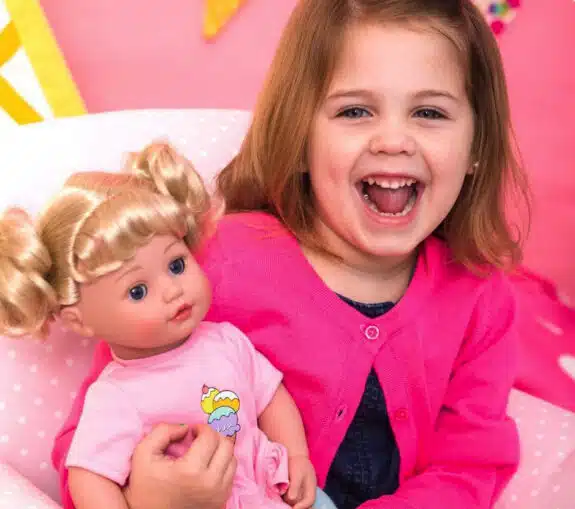 For 6+ their 20″ Adora Girl Power Baby doll's eyes are outlined by lifelike, eyelashes, plus their mouth is slightly opened. These dolls have hand-painted faces and bean-bag-weighted bodies. Heirloom quality and made for play, this collection is part of Adora's premium collection of realistic baby dolls that make the perfect gift for girls and boys to pass down the generations.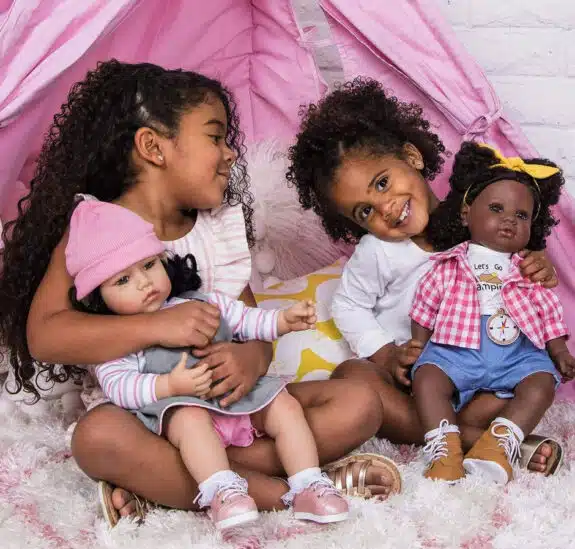 Babi baby dolls are designed to nurture young minds and hearts through imaginative play. They use gentle colors and a soothing style to create a sense of calm as children play and grow.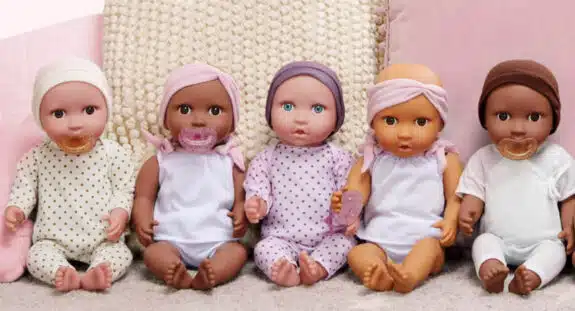 These 14-inch dolls feature 'beautiful eyes (fixed open), soft eyelashes, realistic details and a cuddly soft body made for little hugs.' They come with easy-change clothing with easy-open closures to help little ones change babi; the pacifier fits in babi's mouth for gentle soothing. Each doll is safety-tested to meet all BPA and phthalate requirements.
Babi dolls also come in twins to keep children's arms full and hearts even fuller. As little ones grow, they will learn to role-play the twins' relationship and practice caring social interaction.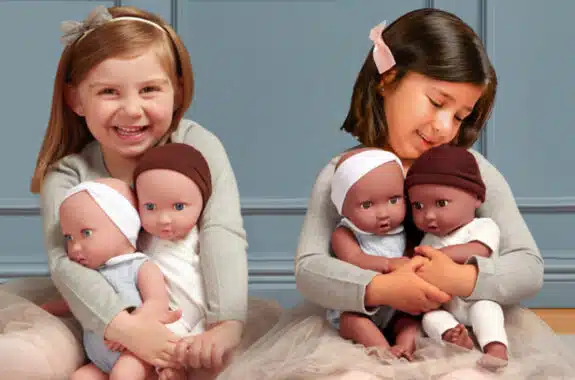 Battat offers a stroller, playpen, and bassinet to increase the play value of the collection.
Melissa & Doug's Mine to Love collection includes dolls for kids from toddler +. Their 12″ Baby Doll was designed with sweet baby cheeks and a soft, and cuddly body. The eyes open and close, the baby is able to suck thumb or pacifier and its arms and legs are wipe-clean.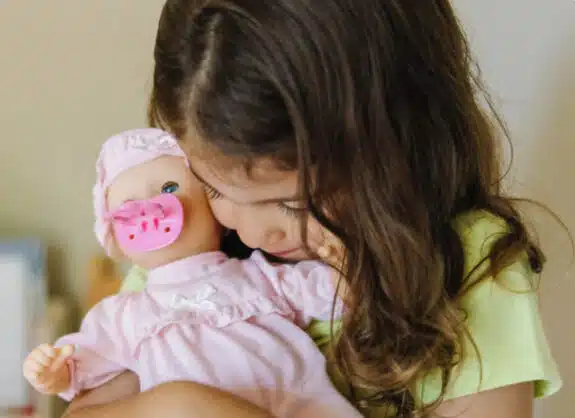 Within this collection, they offer a large number of playsets to increase play value like outfits beds, armoires, bathtubs, diaper bags, and feeding sets.
Melissa and Doug also have a 14″ doll that has realistic-looking eyes that open and close, and her arms and legs are posable so kids can put her in various dance positions. Victoria comes in a removable pink dance outfit for dressing and undressing fun. Her silky smooth, brunette hair is tangle-resistant so kids can style it and get her all ready for the stage in her pink hair ruffle.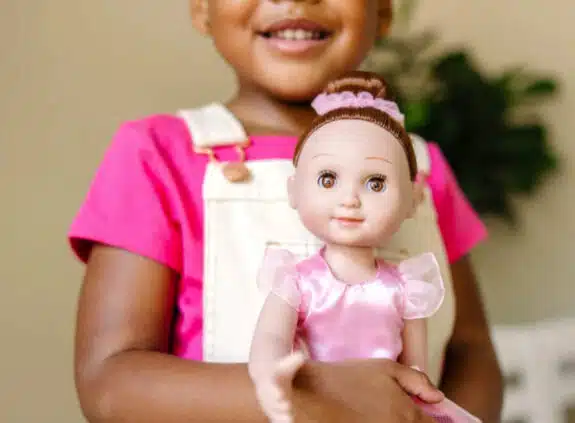 Manhattan Toy has long been known for its inspired toys for early childhood. From trains and musical instruments to activity books and plush toys, their collection includes a vast amount of play value for kids of all ages.
For little ones, 6months+ they have created the Hunny Bunny Beige Snuggle Pod. This sweet set comes complete with precious bunny ears and a poofy cotton tail that hides a sleepy, 8-inch doll inside. Perfect as a first baby doll, Hunny bunny was designed with thoughtful details like a satin-lined interior and velvety soft exterior.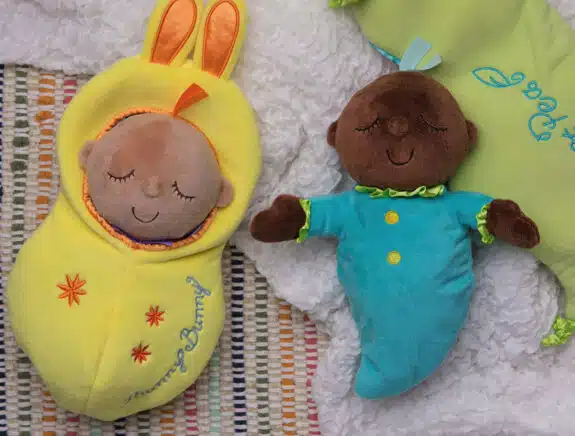 For kids 12 months+ The Baby Stella line is an award-winning doll collection that is the perfect first soft doll to inspire creative role play in little ones. Baby Stella dolls have lifelike toes, belly buttons, and plump tummies, embroidered features removable outfits, diapers, and magnetic pacifiers. This collection is offered in a variety of skin colours and hair types.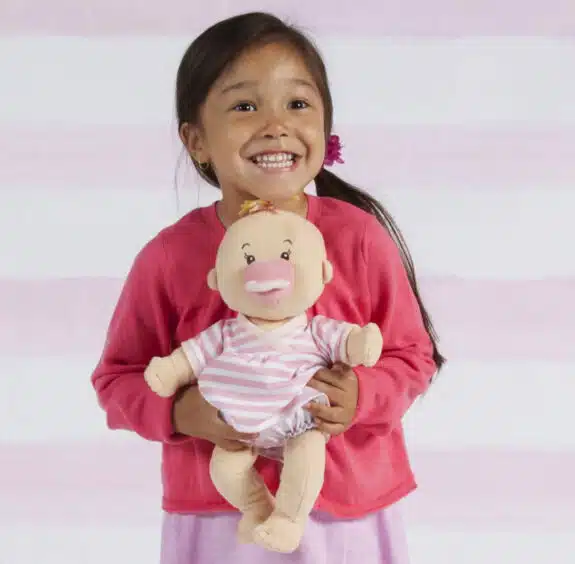 They also have a couple of variations of the doll including This Sleepy Time set that comes with a Wee Baby Stella Beige doll, magnetic bottle, soft bear, and paper storybook.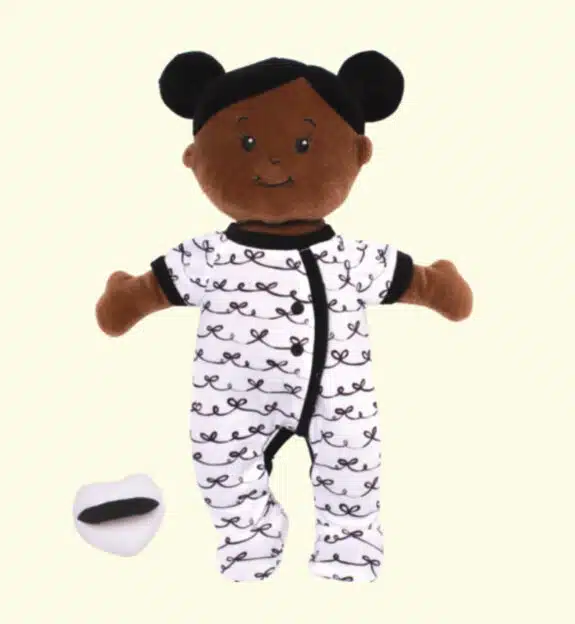 We love Haba. Their timeless, classic children's toys help build connections between different generations. From a simple block set to their play kitchen food, these imaginative toys educate kids through play and ignite their creativity.
Haba offers a soft doll collection made with sturdy materials, but it's also easy to hug and take anywhere. HABA dolls are machine washable, so your child and their toys can stay clean.
From birth, their lovey doll collection is a baby's very first playmate and soft cuddly at the same time. These blanket dolls have knots for teething, a sweet printed face, velour fabric, and a loop for holding a pacifier.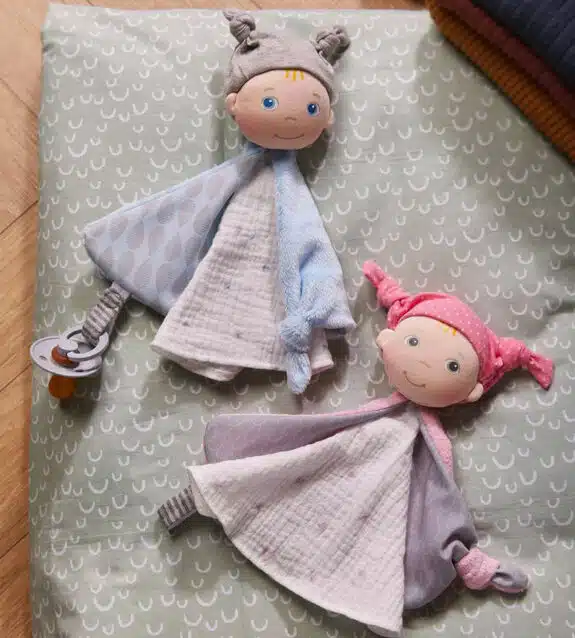 From birth, their 8″ Snug Up Doll Luisa/Luis is made of a soft body that's perfect for baby hands and sensitive skin. Their pajamas and hat are sewn on from fleece plush, but they can still sit easily on a nursery shelf. Their adorable eyes, nose, and mouth are printed on, making the toy safe and chewable for all little ones.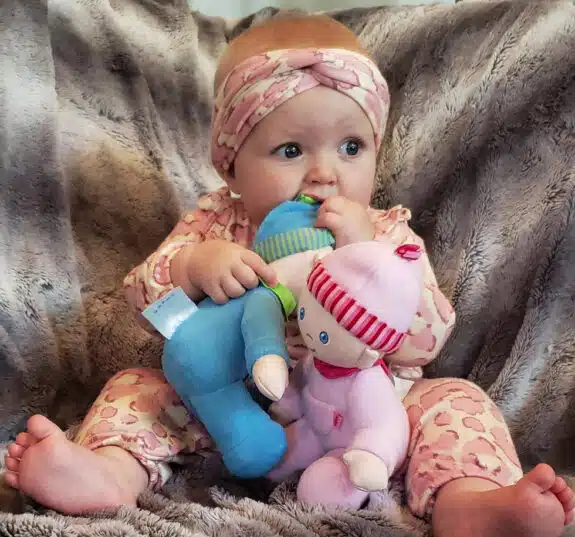 For kids 18 months+ their 12″ boy/girl dolls were created with an embroidered face, bright eyes, and hair made of chenille! Their outfits are removable, the pants/shirts have an elastic waist and slide over their shoes, which are sewn on.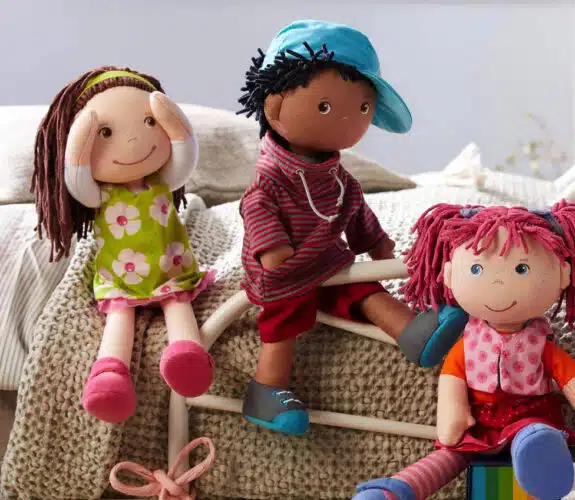 *This post includes affiliate links where we receive a small percentage if you purchase*