One of the coolest toys for toddlers and pre-schoolers just got cooler!  Vtech's Go! Go! popular Smart Wheels toy collection keeps kids excited by pairing creativity with technology.   New for Fall, the Ultimate RC Speedway blends the fun and excitement of the Smart Wheels toys, with an remote control feature that allows kids to move their cars forwards and backwards.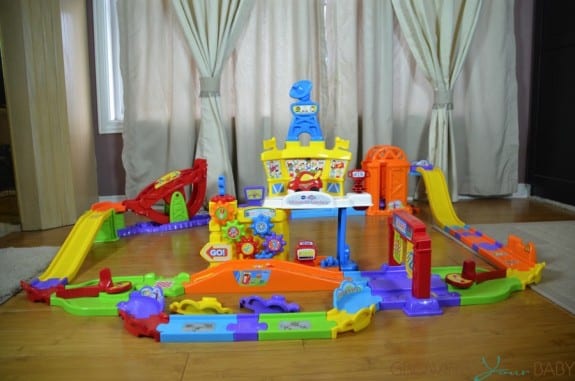 Out of the box there is a bit of assembly – but I am happy to report no screwdrivers are needed!  In the video below you can see the time lapse of me putting it together and the car making its way around the speedway, while hitting all of the stunts.
The Ultimate RC Speedway includes nine SmartPoint® locations, which brings the set to life by triggering the car to say a bunch of funny and informative phrases.  Kids can use steering wheel-shaped remote control to maneuver their RC SmartPoint® Racer Ralph over 13.5 feet track.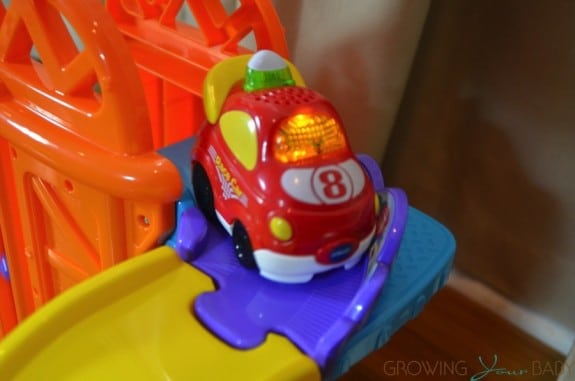 When assembled the speedway is 4.5 feet wide.  Kids can chose from one of four included  layout plans or go rogue to create their own speedway.  The track snaps together easily, which gives kids the power to create their own unique space.
We created ours to look just like the one on the box, and it was a blast to watch the kids race their car through the stunts. Vtech has included some track switchers which allow the car to detour.  With our setup the car would come through the start line but would toggle between going through the pit stop that has a bunch of gears that spin and a side road before heading into the ramp that drops down into a scoop.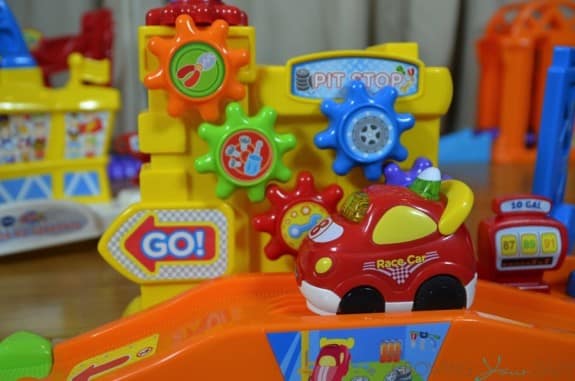 After flying through the straightaway, the car enters into the elevator that takes them up to the next level.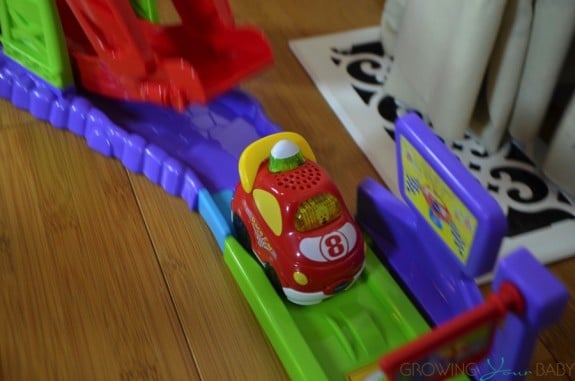 As Ralph whips around the track he says a variety of cute phrases that kids will love.  Fans of the brand will also like that they can add existing sets to this one to create a huge city that all of their cars(or animals) can navigate.
Please check out our video below!

Vtech now offers more than 14 playsets for the Go! Go! Smart Wheels collection.  For more information on this set please visit Vtech's Ultimate RC Speedway!

---
[ad]