In just 4 minutes Danielle and Adam Busby became parents again.  But this time around they will need more more gear, diapers, and many more hands.  The Busyby's are now the parents to 6 beautiful girls – five of which arrived at the same time.  And if it weren't exciting enough that they were going to be parents of quints, their brood is the first of its kind in the United States!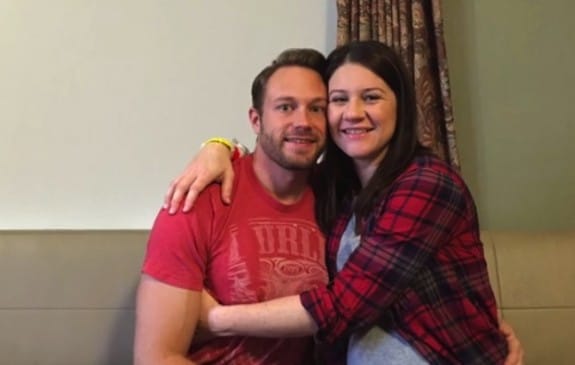 There hasn't been a set of all female quintuplets born since 1969 in the world, and the Busby quints are the first set of all female quintuplets born in the United States.
After 2 cycles of Intrauterine insemination, a process where sperm that have been washed and concentrated are placed directly in a woman's uterus during her ovulation time, Danielle and Adam received the positive pregnancy test they had been praying for.  A blood test shortly after confirmed her HCG levels were growing, but the first ultrasound showed nothing.  It wasn't until a week later that doctors spotted 3 sacs, and one off to the side.  Shocked they were having 4 babies, the couple was in for more of a surprise.  Preparing for four, ultrasound techs found two babies sharing one sac during the next appointment, which brought their total to 5!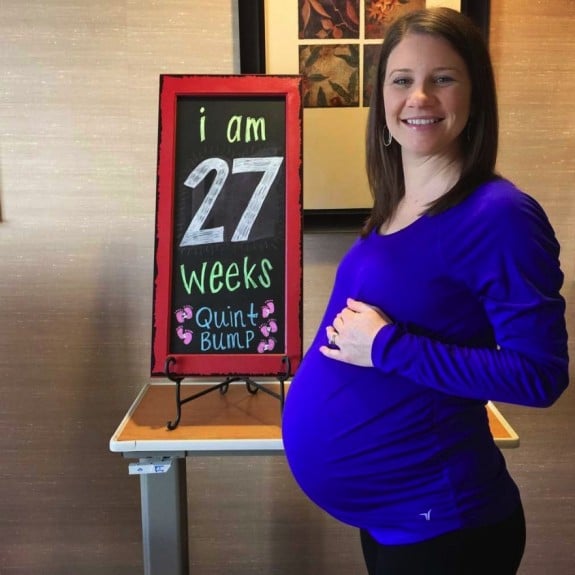 On their site, It's A Buzz World, the couple has chronicled their journey, and showed pictures of Danielle as her belly grew through the weeks.  At 13 weeks she was required to eat a 3,500 calorie diet a day.  That number was raised to 4,500 calories per day at 18 weeks, a bit of a feat for the mom-to-be, who struggled with nausea for most of the pregnancy.
At 28 weeks she had gained 53lbs, and her belly had grown 20 inches.  With hopes of making it to 30 weeks, the babies had a different plan.  On April 8 at 4:41 p.m, 7 neonatologists on hand Ava, Olivia, Hazel, Riley and Parker arrived in 4 short minutes.  Ava and Olivia are the identical twins, and the rest of the girls are fraternal.
Ava Lane:  2lbs 4oz     14 Inches
Olivia Marie:  2lbs 6oz     14.4 Inches
Hazel Grace:  2 lbs 0oz     13.4 Inches
Riley Paige:     2lbs 4oz     14.2 Inches
Parker Kate:  2lbs 4 oz     13.8 Inches
Four of the babies are on CPAP, which is a very positive sign. Riley, their 'feisty' baby, suffered a collapsed lung and needed to have a chest tube inserted. She is currently ventilated, and doctors hope that they can remove the chest tube in the next day or so.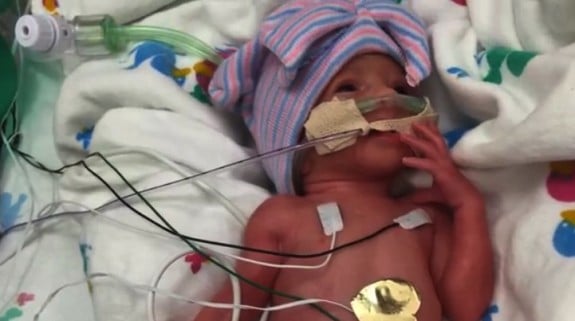 Because the babies are so small, the couple hasn't been able to hold them, but they hope in the weeks to come that will change.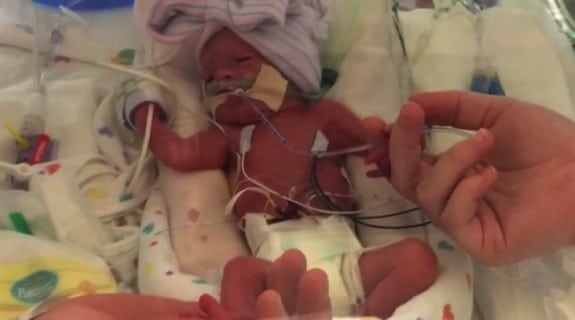 Dr. Jayne Finkowski-Rivera, The Woman Hospital of Texas NICU Medical Director, assisted during the delivery.
"The baby girls did well during the delivery and are currently requiring only modest support of their breathing," explained Dr. Finkowski-Rivera. "They were all in the appropriate weight range for their gestational age, which is due to their mother's excellent efforts to have the healthiest pregnancy possible.   They have made a strong start in life, and we are excited to watch them grow and mature."
Images via UPDATE Video
---
[ad]