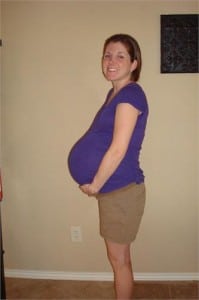 Life got a little crazier for a Houston couple on Monday when they became parents to a set of sextuplets at Texas Children's Pavilion for Women.
Lauren and David Perkins welcomed their 3 boys and 3 girls at 30 weeks 1 day gestation on Monday morning at 10:26 am. While they arrived weighing between 1lb 10oz and 2lbs 15 oz, all babies are stable and are currently in the Texas Children's Pavilion neonatal intensive care unit.
The couple's blog reveals that the babies were conceived using intra-uterine insemination with ovulatory stimulating drugs. Just like the many other parents that we have written about that have welcomed 5 or 6 children, the Perkins were just trying for 1 or possibly 2 babies, but ended up with 6!
Doctors believe that Lauren's running routine caused her to stop having a regular cycles so they started ovulation induction with IUI (intrauterine insemination) that involved 2 weeks of shots and 'a couple turkey bastings'.
The couple writes,
There was a 25% chance the procedure would work at all, and if it worked, a 25% chance of twins. The odds went down from there on multiples, with a 1% chance of sextuplets. After "the 2 week wait" we found out Lauren was indeed pregnant, but with really high hormone levels, so an ultrasound was recommended to see what was going on. We knew something was up when we saw the doctor's jaw drop… he had seen 6 babies!
Lauren's goal was to reach 30 weeks, which she met. She was admitted to the hospital to be better monitored on April 20th, and the decision to deliver the babies by c-section was made after doctors noticed that baby 'C' was not doing well.
Lauren writes:
My blood pressure is all over the place and I'm being super monitored for everything. Got to meet with a neonatologist and everyone's getting ready for the big day. Baby C and D are having trouble, but especially Baby C. She's not showing growth and limited movement, breathing, and brain activity.
A press conference will take place once the family has had time to recover and agrees to release more details. The hospital will release more details and photos at the permission of the family in the coming days.
---