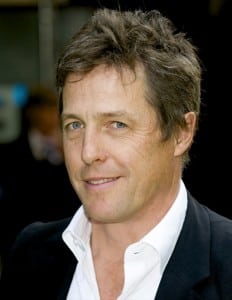 Hugh Grant may grace countless films, including the soon-to-be-released 'The Pirates! In an Adventure with Scientists', but he's always been reserved about his personal life. It is his secretive nature that makes hearing a little about him so exciting!
The actor became a father for the first time last September after a short relationship with Tinglan Hong. Unfortunately, he wasn't able to attend the birth, afraid that the media would follow him, but he finally caved and visited the mother and his daughter the day after birth.
"I was at one of the party conferences, about to give a speech and was pacing about on the end of a telephone," Grant said. "I shouldn't have gone to the hospital at all, because it brought all this attention down on the mother's head. But I couldn't really resist it, so I went on the second day."
Daddy Grant chose his daughter's English name, Tabitha, and Hong chose a Chinese name for their daughter. And it would seem that the baby girl will speak both Chinese and English, as Grant has been given a Chinese dictionary by the mother, but says he hasn't given the book "the attention it needs yet."
"I do know some disgusting Chinese words. They're not entirely appropriate for baby rearing," he said.
It's a little strange to hear him talking about "appropriate baby rearing," especially since Grant had never really seemed like the family kind of guy.
"I don't mind them (babies) for about four minutes," he said. "That's my max. After that, I can't see what everyone's fussing about."
So what was it like seeing his own daughter for the first time?
"I did feel a little lumpy when I first met my daughter, yeah," he said. "Lots of people warned me about [not falling for my own baby]. They said never let anyone know, but the baby period is not that exciting. But I am excited, actually. I thought, well, I'll bluff through it – but very little bluffing has been required. I like my daughter very much. Fantastic."
In fact, he's even felt some "papa pride" since the birth of his daughter.
"There probably is some truth that one of our main functions on the planet is to reproduce because it feels more of an achievement than it should do. Which is nonsense, really. But yesterday, I took my daughter to see my father, who's in hospital, and all the nurses were cooing over her. And I felt, well, pride."
Still, as proud and excited as he is, he isn't sure if being a father has changed his life quite yet.
"Has she changed my life? I'm not sure," he said. "Not yet. Not massively, no. but I'm absolutely thrilled to have had her. I really am and I feel a better person…Well, I think I do feel a little less me, me, me. But then, I've had other family to look after. I have an elderly father who's not very well at the moment, so its' never been entirely me, me, me."
But don't think Grant's going in unprepared. He has given at least some thought to discipline and parenting.
"There's a lot of over-parenting, to my eye," he says, adding in that he hasn't read any parenting books, nor does he intend to.
So what is his discipline plan?
"Well, it would all be total hypocrisy, of course, but things like good manners and not being selfish. It's just unattractive in a child, I don't like it. And discipline – I do think discipline's important. I'm very glad that I had quite a strict mother who was big on discipline, because you really cannot get anything done in life if there's too much 'Oh, well, if you don't' feel like it, don't do it, just express yourself.' I'm not really big on that. Especially in the entertainment industry in particular. It is really 5% inspiration and 95% perspiration – and discipline. You cannot get anything done without it…But also my other worry is about – and as I say, there are few things in life I believe in 100% – but another one is not giving your children money. I see nothing but f*%$-ups among my trust fund friends…So I would not want to do that to my children, no."
But don't mistake him for a Tiger Dad. Grant says he's going to be a "Lamb Daddy."
Spending time with his daughter, however, has been nothing short of catastrophic, according to the actor. Media had made Hong's life "unbearable," but a recent court injunction has decreased the media harassment.
"Had we not got the injunction, I'm sure she'd be in China by now," Grant stated. "She is a good person, a nice person; funny, clever, great mother. And she's been very badly treated by the media."
Related Articles:
---
[ad]