Hugh Jackman was spotted enjoying some one on one time with both of this kids this weekend. The busy dad started his Saturday morning off with a walk along the Hudson river with his son Oscar and the family's adorable french bulldog Peaches. In the afternoon he cooled down at the splash pad with his daughter Ava before heading out on a scooter ride.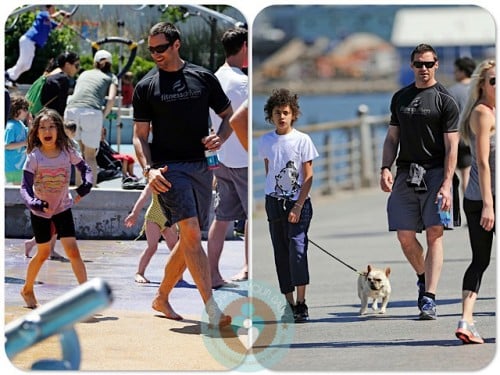 Last week the actor spoke to Parade.com about being a famous dad, Father's Day and his new role in Les Miserables.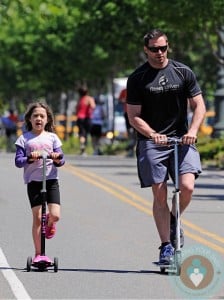 On what his kids think about his fame.
"My daughter is 6 and she is really starting to get it now. My son is 12 and he just wants me to be dad. He doesn't want me to be famous. He doesn't like when people come up to me on the street. He would much prefer if nobody knew who I was. Although, I've seen him in social situations when he didn't think I was listening, and he once said to a girl, 'Well, my dad is Wolverine.' So when it came to try to talk to this girl, apparently it came in handy!"
His favorite part about being a dad.
"The things that I really cherish are the everyday moments, like sitting around cooking pancakes together on Sunday morning, or getting home after a tough day and my kids come up and give me a hug and remind me what's really important. On Friday nights, we will all sit down and watch a movie together and cuddle up. It's more everyday stuff that really is the goal."
On the best Father's Day gift he's ever received.
"The best is a handwritten card. I don't know where some of my awards are, but I can tell you exactly where those cards are. I treasure them most. I am pretty spoiled on Father's Day. I get a lot of home cooking, which is great. My wife is an amazing cook. And my son is actually an amazing cook, too. So I always get a fair bit of cooking on Father's Day."
On his role in Les Miserables.
"It's great. We have one more week of filming and I pinch myself every day. It's the first time a movie-musical has been done with live singing. We are singing every single take of the song. As a performer, it's fantastic. It's obviously challenging, especially when the call is at 8:30 in the morning, but it is so immediate. It is really about the acting. Les Miserables is one of the greatest stories ever told, and it really is an uplifting story about the human spirit. It is a rare feeling to be in something that you know you will look back on as one the highlights of your life."
For the rest of the interview please visit Parade.com
---
{PACIFIC COAST NEWS}
---
[ad]