The U.S. Consumer Product Safety Commission, in cooperation with iCandy America Inc., yesterday announced a voluntary recall of about 830 Cherry model strollers because the opening between the bumper bar and seat bottom of the stroller can allow an infant's body to pass through and become entrapped at the neck, posing a strangulation hazard to young children when a child is not harnessed.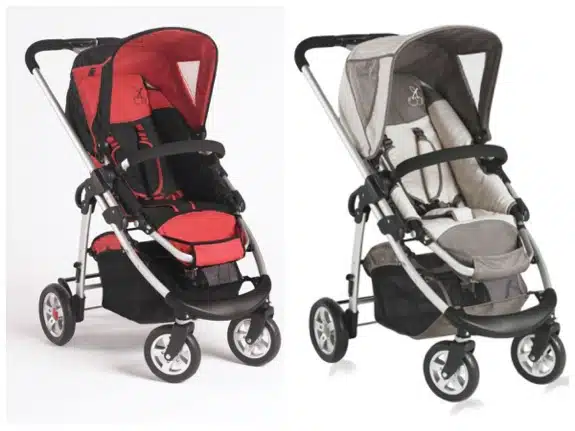 This recall includes the iCandy Cherry stroller only in the colors Fudge (light-medium brown) and Liquorice (red and black). The iCandy Cherry stroller system has a telescopic folding frame where a seat, bassinet or infant carrier car seat can be placed. The seat unit features three recline positions, adjustable footrest, 5-point safety harness, removable canopy and removable bumper bar. There is a printed white cherry logo on the rear of the seat unit. A label can be found under the basket fabric on the frame tubing that supports the lower basket on the following recalled models.
Batch No., Cherry Stroller Color ,Serial Number:
U10001169 FUDGE (IW119) 1-500
U10002170 LIQUORICE (IW124) 501-1000
U10014182 LIQUORICE (IW124) 1001-1500
U10013181 FUDGE (IW119) 1501-2000
Consumers should immediately remove the bumper bar from the strollers and contact iCandy America Inc. toll-free at (877) 484-4179, e-mail info@icandyamerica.com or visit the firm's website at www.icandyworld.com and click "United States of America" and "Important Safety Information – iCandy Cherry." to receive a free replacement bumper bar. Consumers can continue to use the strollers while awaiting the replacement bumper bar.