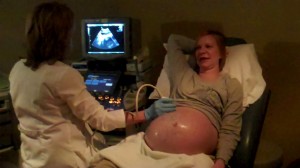 After being told they probably not have children naturally, an Illinois couple is thrilled to find out they are expecting their 3rd, 4th and 5th baby all at the same time!

With the help of fertility treatments, Elaine and David Kaemph welcomed fraternal twin boys last year.

After the 1-year-olds were born, doctors informed the couple they probably could not have children unless undergoing fertility treatment. Wanting to have another baby, Elaine and David had talked about adopting, trying in vitro again or on their own.
"It was a big issue for us, because we didn't think we could go naturally," Elaine said.
Little did they know, but Elaine was already pregnant with triplets, all in one placenta, and each in her own sac. The odds of natural, identical triplets range from 1 in 160,000 to 1 in 200 million.
"I was like, I'm just really getting fat. Why am I getting so fat?" Elaine said.

"Sometimes when you're undergoing infertility treatment it can help the process. Sometimes it might improve the situation of having a natural conception," Dr. Lee Yang one of the Kaempf's doctors said.
The babies formed as one egg split into two, and then one of the eggs split again. The girls are all on one placenta, each in her own sac and are due to be delivered this Thursday. Although they're arriving about a month before their due date, Dr. Yang estimates they will probably stay in the hospital about one week.
Related Triplet Stories:
---
[ad]