Many couples long to become parents. For some, it comes easily, for others, it just simply isn't possible. It can be upsetting and painful when struggling with infertility. One Illinois couple has experience of this first-hand. They longed to have a child, to adopt a baby, but understanding that the adoption process can be a long and expensive one, they turned to the popular classified ads website Craigslist, and created an ad looking for a child to adopt. But not all went according to plan.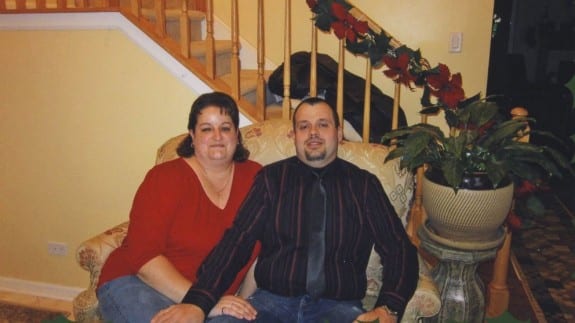 Mark and Tracy Dziekanski wanted to have a child of their own, more than anything. On January 26th 2013, the couple posted their Craigslist ad looking to adopt a baby. Anxiously awaiting an answer to their ad, it finally came a month later, from a woman named Heather Taylor, from Pitt County, N.C. Pitt County Sheriff's Office Detective David Flynn, who worked the case says,
"Ms. Taylor told them that she was expecting a baby and was looking for a nice couple to take [care] of the baby for her 'cause she knew she couldn't afford it financially. She basically said, 'You're the couple that I've been looking for. She knew that she couldn't take care of this baby because she already had her other daughter, Lilian, and it was hard to take care of her."
Overwhelmed with excitement that their dreams would finally be coming true, the Dziekanskis were eager to to help Heather out with whatever she needed for the pregnancy, including giving her money.
"We didn't hesitate, you want to keep her healthy. She's carrying our hope…so we're gonna give her anything she needs," Tracy told 20/20.
Mark added "I said, 'As long as it's for the baby, I don't have a problem with it."
During her pregnancy, Heather would regularly keep the Dziekanskis updated with information like how big the baby was, and her weight gain. However, the couple never got the chance to meet with her in person.
Mark recalled,
"We were going to get together. We were planning on meeting her and getting to know her and, I mean, we were going to go through the whole ten yards, and it just never happened."
After months of waiting for their newest family member to arrive, the couple finally received the phone call they were waiting for; Heather was in labor. Tracy says that she was even on the telephone with her while she was giving birth, saying,
"She's having a C-section, and I'm…on the phone with her in the delivery room. You could hear like…the heart rate and everything, like she was really at a hospital…then a couple of minutes later, there's a baby crying."
Heather told the Dziekanskis that she had given birth to a baby girl. The couple decided to name her Anna Rosemarie. Heather then sent photos of the newborn, and overcome with emotion, Tracy remembers thinking "It's just, my god, this is real. This is really going to happen." It wasn't until it was time to bring little Anna to her new home that they both began to see the red flags popping up.
Tracy recalls the first time she had any doubt "I think the first one was when she said she was bringing us the baby, said she was on her way over here, and she made it to Indianapolis. And her brother was in a car accident so she had to go back home." They also started to question the situation when they began noticing that the next set of photos that they saw didn't appear to be the same baby. Try as they might, the couple couldn't reach Taylor. Mark recalls "We couldn't get a hold of her. Finally, she called back. She said she was sorry about all of this, and that she's changed her mind, her mom was going to help out in ways that she would be able to afford to keep our Anna." That's when Tracy says the whole story became "ridiculous."
The heartbroken couple decided to contact other couples who had posted adoption ads through Craigslist, to see if anyone had dealt with anyone named Heather Taylor. They received a reply from a woman named Nicole, living in North Carolina. She recanted a similar story to the couple, with Heather being pregnant and promising her baby to Nicole. Detective Flynn notes that she "went to extreme efforts to convince…both couples that she was pregnant. From my understanding, and speaking with Heather Taylor's family, she had a long history of making up stories about other things."
The Dziekanskis even told Heather that they would not contact the police, despite the fact that she lied to them, if she paid them back the money she stole from them.
When contacted by 20/20 for an interview Heather refused, but said that she did it for attention and to feel wanted.
She has been sentenced to between 6 and 17 months in jail. However, her sentence was reduced to 3 years supervised probation and mental treatment.
Today, the Dziekanskis now possess a fostering license and are hoping to adopt children through the foster process. However, Tracy admits that it is hard to think about what life would have been like with their little one, saying,
"It is hard [seeing children], 'cause our little one would be a year old and we'd be taking her to the park, maybe not now but maybe further in the summer, chasing her around like crazy, we have so much love to give any baby, any child that there's no way that…it's not going to happen."
---
[ad]