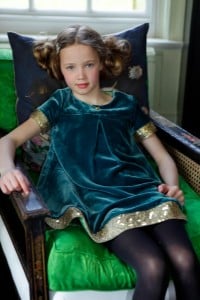 This past summer we brought you the stunning flowergirl and bridesmaid collection from ilovegorgeous. Now we are thrilled to bring you their beautiful Winter 2010 collection. This incredible collection is made up of party dresses and outfits, comfy daywear, cozy coats and sweet accessories.
In beautiful fabrics of silk, silk velvet, chiffon and organza, the party dresses and outfits are simply perfect for the holidays and special winter occasions. Well known favorites such as the stunning Marie Antoinette and Funky Party dresses are back in great new prints, and sparkly new dresses such as the sequin accented Mega Muse and Diva dresses as well as the Gold Cancan skirt and Lucy Locket silk dress, both of which look as though they have been sprinkled with gold dust, are making their debuts.
Comfy outfits for everyday are just as gorgeous. Made of moss crepe and vintage inspired prints, cozy rayon prints, viscose jersey, cashmere cotton and a cozy viscose angora blend, this collection includes sweaters, sweater dresses, sweet cardigans, hats, gloves and infant sets.
Jackets are also included in this great new collection, and among my favorites is definitely the shaggy collared red wool coat. A quirky unique coat to ward off winter chills.
This Winter collection by ilovegorgeous, from wonderful festive dresses to simple pretty cardigans, is perfect for sweet little girls. – Belinda, Staff Writer
---
Related Articles:
---
[ad]