My favorite puzzle company, ImagiPLAY has introduced some new puzzles that will be sure to challenge your little one.
The unconventional way they mix shapes with numbers and letters makes their puzzles different from anything else on the market.
Their new styles will keep your child's imagination active while also keeping the earth in mind.
The Watercolor Counting and Alphabet Puzzles are made from all natural,
managed forest basswood.
These all natural 3D puzzles offer learning, beauty and creativity! They not only help children learn their ABC's and numbers, but they also nice enough to be hung on a wall afterwards. Watercolor paint kits are included.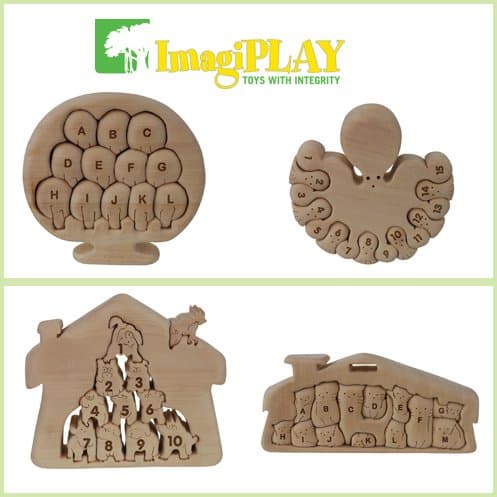 For children aged 5+ $22.99
For 2009 ImagiPLAY expands their popular Colorific Earth puzzles.
The Butterfly Alphabet, Apple Tree Feast and Dinosaur Alphabet are all Hand-crafted & hand painted with child-safe paints. Parents will also appreciate that they are made from plantation-grown rubberwood, an environmentally- friendly hardwood.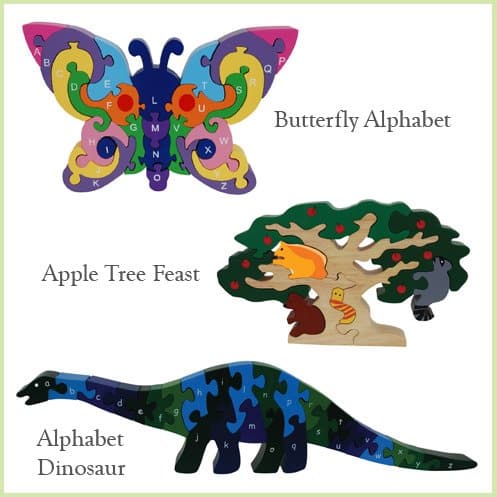 For children aged 3+ $36.99
*ImagiPLAY works exclusively with small, family-run wood shops where craftspeople are paid a fair living wage and treated with respect and dignity. ImagiPLAY toys are naturally safe for children and their planet. All wood used is from managed forests or farmed on plantations. ImagiPLAY plants more than 5,000 trees a year and supports organizations that protect our environment, health, wildlife and natural resources.*
---
[ad]