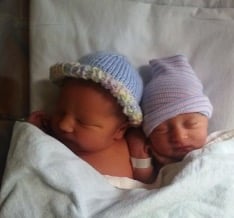 A set of twins, looking to make their entrance into the world, did so in grand fashion a couple weeks ago! Courtney DeConto had just started to experience contractions when she and her husband Marco made the decision to head to the hospital, but their babies had other plans!
"As soon as we got in the minivan my water broke. And then I realized I really was in labor, I didn't really think I was till we were in the van," Courtney told Eyewitness News.
They called 911 and were told to stay put but instead keep driving towards Raleigh. Just 15 minutes down the road their first baby Ransom made his appearance.
"While he was driving I still had all my clothes on, so I was screaming 'take my pants off,' and he was trying to drive and take my pants off, and the baby came out and my pants caught him," Courtney recalled.
Ten minutes further Dalia followed her big brother's lead.
"After he was born, Courtney picked him up, and sort of talked to him and was soothing him, in between contractions, and she was all maternal instincts like, 'welcome to the world, we love you,' and same thing with her [Dahlia]. She came and then she had both of them and she was talking to them and trying to keep them warm," Marco recalled.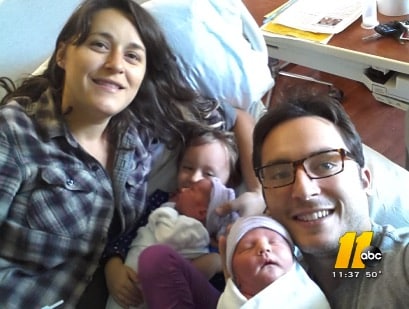 It is estimated that just 1 in 4 moms who are pregnant with twins deliver them vaginally. What makes this delivery rare was that the babies were born without medical intervention.   Courtney is also a Type 1 diabetic, so there were just a lot of complications they were hoping to avoid.
Thankfully Ransom and Dahlia were both perfectly healthy, and are now home with their family!
---