In a spontaneous event that has odds varying from 1:1,000,000 to 1:50,000,000 a couple from Indiana has welcomed a set of identical triplets.  Conceived naturally, the rare event occurs when the egg splits, and then splits again.
Already parents to a son, Ashley and Matt Alexander were surprised when a routine sonogram revealed they were expecting three new additions to their family.  The new meant they would be doubling their family in just a few short months!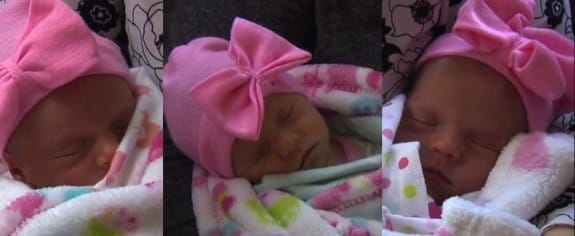 "She was checking [Ashley] and right away there were twins, and she goes, 'Let me check for a third,'" Matt  told WRTV-TV in an earlier interview. "I'm like, she's just joking. I said, 'You're joking,' and she said, 'No, we don't joke about this stuff.' So [Ashley] about came off the table."
The babies arrived on Thursday night, at an incredible 36 weeks gestation.  Sophia Mae and Alexis Kae weighed a little more than 4 pounds, while Ella Shae weighed 5 pounds.
As expected with identicals, the girls are hard to tell apart.  But Ashley has a plan,
"I'm painting their nails," she said. "One's going to be pink, one purple, and the other probably pale blue."
The babies will be released home soon.
Despite the chaos they know will accompany three new little ones, the couple is taking the baby's arrival in stride.
"We believe children are a miracle and a blessing, and yes, it's going to be hectic, and tight and exhausting but we'll pull through it, " Ashley told WRTV-TV  "We're excited.  We're more excited than we are stressed."
Congratulations to the couple!
---
[ad]