There was widespread damage as a deadly tornado ripped through parts of Texas on Saturday night.
Philip Ocheltree wanted to get his young family to a safe place to wait out the storm, so he left his home with wife Emily, 2-year-old daughter Addy, and baby son Marshall intending to outrun the oncoming storm.
Just outside of Dallas in the town of Myrtle Springs the family's black Chevrolet SUV hydroplaned on the highway, flipping upside down and coming to rest in raging flood waters. Those waters were so high and moving so fast that Philip was unable to open the doors of the partially submerged car.
Tom Mitchell drove by moments later and told KHOU that he spotted the car but couldn't tell if anyone was inside. Tornado sirens were wailing and lightning was lighting up the sky as Mitchell and a group of six other onlookers braved the flood waters to gather around the vehicle. Lacking the physical strength to help get the doors open, Mitchell captured the chaotic scene on video.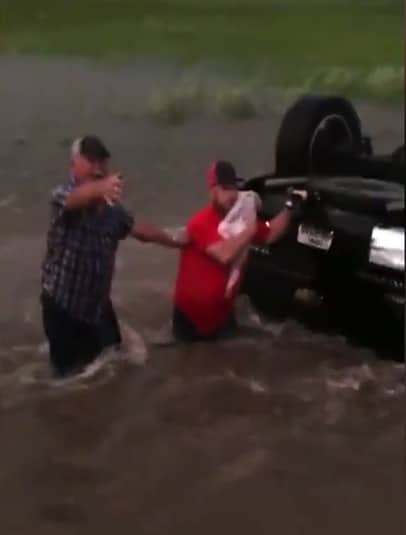 One of the rescuers is heard yelling for a sharp knife as another man notices the baby boy and his sister trapped in the back seat. "I've got a baby," he shouts. "Call 911."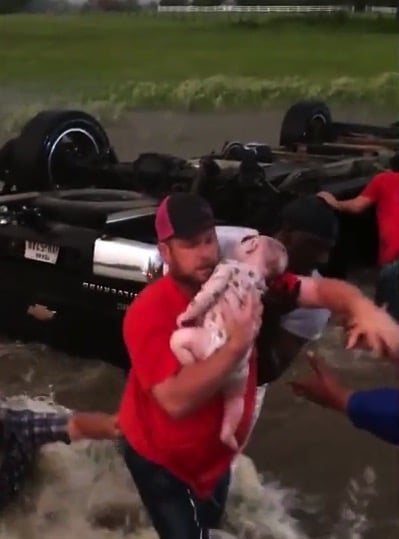 Steadied by others with him in the powerful flood water, a man is seen carrying the baby to safety. Moments later, another rescuer carries the little girl – still strapped in her car seat – to shore.
Neither of the two children is breathing.
Mitchell begins administering CPR to the baby, who is bleeding through the mouth and has an ominous bluish-grey color. He says he was thinking "No reaction, nothing. This baby may not make it." Nearby a woman begins to pray, "Give him breath, Lord, give him breath." Marshall begins breathing.
Mitchell moves to the toddler, who is gasping now. The woman continues to pray as another sobbing man urges Mitchell on with "Don't stop!" After about three minutes, the little girl begins taking labored breaths. Mitchell is heard saying "She's breathing! But she's gasping. She needs oxygen."
Both of the children were revived and as emergency personnel arrived were taken for further treatment at a local hospital.
Baby Marshall was treated and released. His dad says that by the following day he was "Full of life and in excellent condition." Sister Addy remains in the hospital under sedation but is listed in stable condition. Her tests and scans look positive and doctors hope to soon be able to remove the tube helping her breathe.
Writing on Facebook, Philip Ocheltree says "Life comes at you in the blink of an eye. I can't thank you all enough for coming into the water to rescue my children."
Wife Emily adds here thanks to "the people who were there and who risked their lives to save my kids."
Via Washington Post
---
[ad]