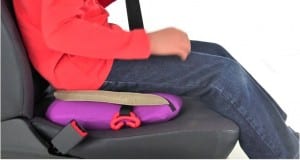 Would you ever consider using an inflatable booster seat as your child's restraint system in the car?  The idea of plopping your child on top of a balloon and going for a drive sounds questionable.  When I first learned of the BubbleBum booster seat, I was sceptical.  But as I learned more, I began to see its merits and, I think, it has won me over.
The BubbleBum booster seat was designed as a cost-effective, lightweight safety device that deflates and folds flat for easy transport in backpacks, purses or luggage.  Created for children ages 4 – 11 for the US market and 33 – 80 lbs, this highly portable device is ideal when families have to do a lot of vehicle hopping, i.e. holidays, rental cars, taxis, bus travel, school trips and car pooling.
Bubble Bum meets all the US Federal Motor Vehicle Safety Standards and has also been tested and approved to European Standards
This extremely nifty gadget is the brain-child of Irish entrepreneur, Grainne Kelly.  Grainne is a busy mom with two little ones and is also a travel agent.  She developed the BubbleBum in response to her own frustration with conventional booster seats.
"I created the BubbleBum as there was no solution on the market to allow parents to have the correct child restraint available for their child in every situation.  Every child is important and deserves to be safe on every journey," Grainne said, adding, "Modern families do a lot of travelling in cars, coaches, taxis and bulky, heavy booster seats just aren't practical to carry around even for one child, never mind if you have two or three."
Isn't that the truth?  I can certainly think of occasions when such a practical booster seat would have been handy.
I'm not the only one who likes the idea.  Grainne and her BubbleBum are currently receiving acclaim and international attention at the Kind & Jugend exhibition in Cologne, Germany.  Kind and Jugend is one of the most important trade fairs in the world, for baby and toddler products.
The BubbleBum is one of five finalists in the Innovation Awards, World of Travelling Baby (children's car seats) category, at the exhibition.
This is the second time, this year, that Grainne's booster seat has been recognized.  She also received the bronze award in Practical Parenting Magazine's 10/11 Awards.  The judges presented the award, "as validation of the product's great quality, usability and value."
The BubbleBum is already hugely popular in the UK and Ireland and is making inroads into the rest of Europe and America.  Grainne hopes that the Kind & Jugend exhibition will help to gain exposure for the BubbleBum and increase sales to new markets.
"BubbleBum has been designed to be small, light, practical and so easy to use that it's perfect even for quick taxi journeys," Grainne said.  "Plus it looks good, so kids don't mind carrying it around in their rucksacks or schoolbags."
As long as it doesn't pop, I'm all for it. – Jen R, Staff Writer
Related Articles:
---