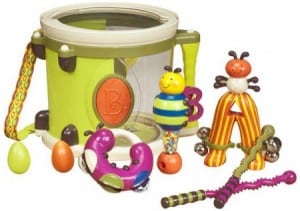 We are very happy to introduce you to B. toys!  B. believes that as parents we hold the opportunity of a lifetime in our hands – that opportunity being the formation of little humans – our children.  Who our children become is developed in the daily decisions they face, the special moments they share, and even in the toys that they play with. 
Along with a team of designers at DoodleDoo, and in partnership with family-run manufacturer Battat, B. decided it was time to make toys that made a difference to the world and the children in it.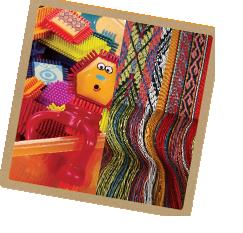 The first thing you'll notice about the B. toys collection is that they look different than many toys on the market.  The look, feel and function of the collection are inspired by the world around us.  By children's faces, by travels, by Peruvian textiles, New England foliage, and even little items like a bar of soap that brought a moment of delight.
You'll also notice that their packaging feels different.  For starters, wherever possible they have omitted packing all together.  Any of their toys that come in packing come in either boxes made from recycled paper or a beautiful sturdy bag that you can use over and over.  The bags look and feel like fabric but, but they are actually made from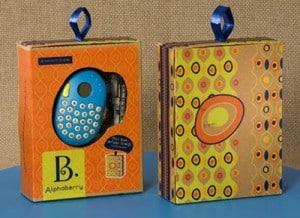 polypropylene (a material made from recycled items like sneakers).  One of the things we absolutely love about the packing is that many of their boxes flip over and become gift wrap eliminating the need for wrapping paper!  On top of all of that, the inks used in their packing are soy-based and their varnishes are water based.  It's obvious that they put a lot of effort into ensuring that their packing was environmentally friendly making as little impact as possible on the planet.
Their toys are not only beautiful but educational.  From teaching our children letters, sounds or action and reaction your little ones are sure to have fun at play while also developing their skills. 
As a bonus for every B. toy that you purchase ten cents is given to Free The Children. Free The Children was founded by 12-year-old, Craig Kielburger in 1995 when he gathered 11 school friends to begin fighting child labor.  Today, Free The Children is the world's largest network of children helping children through education with more than one million young people involved in their program in 45 countries.  So far Free The Children has built over 650 schools in communities around the world, providing education to 50,000 children every day.  Imagine 50,000 children learning valuable skills that will help them grow, protect themselves from disease, earn a better living and understand their rights so that they are never exploited.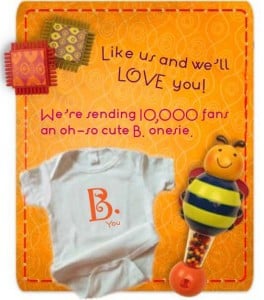 At the end of the day the goal of B. toys is to be bigger than just a toy company.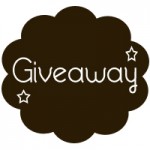 GIVEAWAY:  In honor of their first birthday, B. is giving away 10,000 onesies to the first 10,000 people who "LIKE" them on
Facebook
starting today!
---