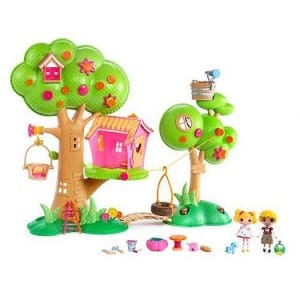 Since their creation in 2010 Lalaloopsy dolls have taken the world by storm not only because they are cute and whimsical but because of the story behind them.  It is said that Lalaloopsy dolls "were once rag dolls that magical came to life when their very last stitch was sewn." In the story, each doll is made from fabric and takes on the personality of the fabric from which they have been made. For example Marina Anchors was made from a sailor's uniform and Ace Fender Bender was sewn from a mechanic's clothes.
Earlier this year MGA released mini versions of their classic dolls with the same cute look and along with it they introduced the Mini Treehouse Playset.  Designed for children four and up this double sided treehouse set includes 2 mini Lalaloopsy dolls, (Patch Treasurechest and Spot Splatter Splash & their pets) as well as a tire swing that slides across a zip line between two trees, two swinging treetop hammocks, a removable club house, an elevator and a spinning lookout bucket with telescope. 
One of the best features about this set is that it's big enough for two children to play with it at the same time without getting in the others way.  The Mini Lalaloopsy Treehouse has a number of diverse activities and ways to stimulate your children while encouraging imaginative play.   
It's no wonder that the Mini Lalaloopsy Treehouse is predicted to be a smash hit this holiday season! 
 
Features:
Two-sided Mini Treehouse Playset
Tire swing slides across zip line
Includes elevator in tree trunk, wind-up basket, bridge and 2 hammocks for doll and pet
Clubhouse is removable
Look-out bucket with telescope spins
Real working whack-a-mole feature
Includes 2 exclusive dolls, 2 pets, and treehouse accessories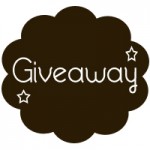 WIN IT!! Lalaloopsy is offering one (1) Growing Your Baby reader the opportunity to win a Lalaloopsy Mini Treehouse Playset of their own.   
Congratulations to our winner: Amy!!
---
[ad]