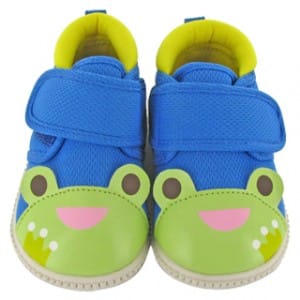 Yochi Yochi is proud to introduce the latest trend from Japan here on American soil.  With 2 cute styles to choose from, "Prince Kairu" (little frogs) for boys, and "Princess Sakura" (pandas) for girls, your little ones will be stylish and ready to walk!
These interactive shoes squeak when your child takes a step, resulting in hours of entertaining fun. Each shoe is made of high quality nylon, with comfortable insides to keep your child's feet cozy. The velcro closures make them quick and easy to put on a wiggling squirmy toddler.
Safety is an added plus. Every parent's nightmare is losing a child in a public place. The squeaking sounds from the shoes can help you keep track of your child or locate him quickly if he slips out of sight.  In addition to safety, many doctors have suggested that when children can audibly recognize their footsteps, the sounds can reinforce the natural rhythm of walking and can actually help train them to walk.
Besides being adorable I LOVE the way they come packaged – instead of a bulky shoe box, which eats up a ton of space, they come in a little reusable drawstring bag.
Using stored rain water for daily factory use, energy-efficient machines and water-based dyes for printing those of us who are concerned about the environment will be happy to know that Yochi Yochi is a certified earth friendly company!
Yochi Yochi Shoes super cute, ha mve a great fit, are easy to put on and are very affordable at a price of only $14.95 which makes them a favorite with us!
Related Articles:
---