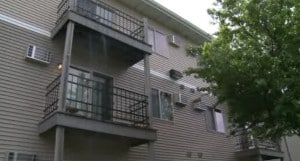 An Iowa toddler definitely must have an angel that is working hard to keep him safe. The little boy is very lucky to have walked away from a three story plunge with only minor injuries.
According to witnesses Imanuel Hendrixson was leaning against his screen window around bedtime Thursday night when it gave way causing him to fall more than 20 feet.
A neighbor who saw the boy fall called 911. When medics arrived, the boy's mother was at his side and he was alert and talking.
"It's one of those things, it's just pure luck," says Des Moines Fire Captain Steve Brown. That's the only way to explain the child's lack of serious injuries.
He reminds parents to check the rooms in their home.
"You need to think safety when you're putting a child's bedroom together. Move things away from the windows, what they can crawl up on. Make sure there's locks on windows," says Brown.
The toddler was admitted to hospital for observation and released last night. Des Moines Police say the fall appears to be an accident and it's unlikely any charges will be filed.
---
[ad]