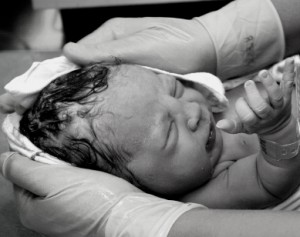 A new study claims that home births are riskier for babies while safer for moms. However, not everyone agrees that the numbers add up.
Researchers from the US are claiming that their study shows that home birth causes double the deaths of infants than hospital births. After studying more than 500,000 women in both the US and Europe, the researchers are arguing against a previous study that found no difference in safety between home and hospital birth. Not everyone is agreeing with the new study's research.
350,000 women who had planned home births were compared to only 200,000 women who had planned hospital births. The researchers looked at where the women planned to give birth, rather than where the actual birth took place. Infant deaths that took place in hospitals after a home to hospital change would then be counted as a home birth death. Even with this, the death rate for infants counted as home births was only 0.2 percent.
The researchers granted that home births were often safer for mothers. Fewer interventions meant that mothers who choose home have fewer tears, hemorrhaging, and infections. However, they are quick to point that mothers are risking their infants lives for their own safer births.
"Women choosing home birth, particularly low-risk individuals who had given birth previously, are in large part successful in achieving their goal of delivering with less morbidity and medical intervention than experienced during hospital-based childbirth," said lead author Dr Joseph Wax from the Department of Obstetrics and Gynaecology at Maine Medical Center.

"Of significant concern, these apparent benefits are associated with a doubling of the neonatal mortality rate overall and a near tripling among infants born without congenital defects."
Professor Sir Sabaratnam Arulkumaran, president of the Royal College of Obstetricians and Gynaecologists in the UK, said the findings should be considered but do not necessarily rule out home birth. He feels that by providing more medical care to women who are high-risk, and by ensuring that midwives are equipped with good resuscitation skills many of these deaths can easily be avoided without giving up home as an option.
"With the above systems in place and provided women receive one-to-one midwifery care, planned home births for low-risk women are a viable option," said Prof Arulkumaran.
Mervi Jokinen of the Royal College of Midwives, feels that because so many countries were studied the results are skewed by those countries with poorer rates.
"Comparison of the results is difficult because the study's authors are working with data collected differently in many countries.

"Here we have services delivered by midwives who are skilled and experienced at home births and resuscitating newborns.

"This is perhaps in contrast to many of the other countries this research covers."
Home birth rates vary by country. In places like the Netherlands, nearly one third of all births are home births. In the US, only one out of 200 is a home birth.
The entire study will be published in the American Journal of Obstetrics and Gynaecology. – Summer, Staff Writer

Related Articles:
---
[ad]