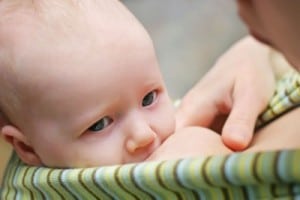 According to a study covering both Europe and Latin America, there may be certain risk factors involved in infant wheezing. Removing the factors may prevent the condition from beginning.
Almost 40 percent of children experience wheezing once during their first three years of life. Described as a high-pitched whistling sound when breathing, it is caused by blockages in the small breathing tubes in the chest. Children that face reoccurring episodes of wheezing are often more likely to become asthmatic later on in life, prompting researchers to look for a way to prevent the wheezing early on.
Covering six countries, nearly 29,000 children were studied to see what common risk factors wold contribute to infant wheezing. Smoking during pregnancy, not breastfeeding, and daycare use were all found to be common links among those who developed wheezing.
Infants who suffered through a cold within the first three months of life often developed wheezing within the first year. This was three times higher than those who did not face a cold early on. The same numbers also come up when infants in and out of daycare during the first year of life are compared. Children who were born of smoking mothers faced a 44- to 48-percent greater risk of developing bouts of wheezing.
Lowering the risks, it seems, points to breastfeeding. Infants who were breastfed for longer than three months were 20 percent less likely to suffer reoccurring wheezing than those who were not breastfed, or only breastfed for a short period of time.
The lead researcher Dr. Luis Garcia-Marcos, of the University of Murcia in Spain, feels that breastfeeding helps by preventing infections that can cause wheezing. He recommends that women do not smoke during pregnancy as well as breastfeed to lower the risks.
The countries studied included four less-affluent countries – Chile, Columbia, Brazil and Venezuela. When compared to two wealthier European countries – Spain and the Netherlands, the risk factors remained the same. – Summer, staff writer
Related Articles:
---
[ad]