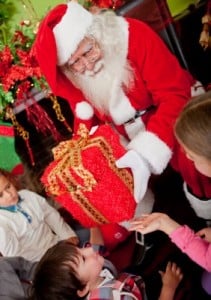 We have been talking a lot about strangers in our house lately trying to help the boys define who they can trust and who they can't. When they see someone on our street that we may be friends with they ask, 'Is Dale a stranger?' To which we say, 'No, but you can't go in his house or in his car.'
While out shopping at the mall yesterday we came up to the Santa display and my youngest turned to me and asked, 'Is Santa a stranger?'
Yes, he is. But he will come into our house and drop off presents when you are sleeping. That actually sounds a bit creepy when you break it down in practical terms.
The problem is that Santa, the myth makes him out to be a legendary figure, who represents the magic of Christmas and much that is good around this time of the year. Santa, the guy at the mall is a stranger, who has no connection to the fable aside from looking similar to the character.
In reality kids should never really socialize with Santa in any form – except to possibly have their picture taken with him and tell him quickly what they would like on the big morning at the mall. Therefor it is confusing to them about what his status is when it comes to safety and has been somewhat complicated to explain to my 3 and 7 year-olds.
To get around this, we have started to make a list of people they can trust. Aside from us, grandmas, grampas, aunts and uncles are the only people they can truly trust; go to their house, ride in their car and take treats from. They have been told to tell a police officer or firefighter to call us as opposed to going anywhere with them as well.
This all may sound a bit paranoid, but life has so many 'exceptions to the rule', it is hard sometimes to keep it easy to understand.
For kids there are so many characters that are held to a high regard. At the end of the day anyone can buy a costume and pose as any one of them. I mean don't even get me started on that creepy Elmo that walks around Times Square. COMPLETE misuse of the reputation.
---
[ad]