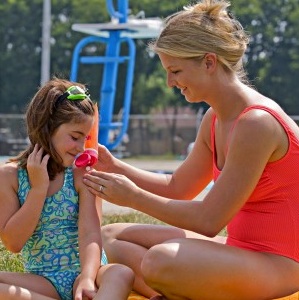 The Environmental Working Group's annual report on sunscreen was released this week.  Citing poor regulation, overstated claims and the possibility of increased cancer risk; the report is enough to leave parents wondering if it's wise to slather their children in sun block, after all.
According to the EWG, the ideal sunscreen would block all UV rays effectively for several hours and would be formulated to prevent more damage than it causes.  But of the 500 sunscreens examined, it was found that only 39 met their standards for safety and effectiveness.
The report criticises the FDA for insufficient oversight and regulation of sunscreen.  In 2007 the FDA proposed a regulation that would prohibit manufacturers from rating their sunscreens any higher than SPF 50 stating that, SPF ratings higher than 50 are "inherently misleading" and that "there is no assurance that the specific values themselves are in fact truthful."
This regulation never came to pass and there are currently a number of sunscreens that are touted to have SPF ratings well in excess of SPF 50.
In general, the SPF ratings on sunscreens overstate the protection they are actually giving.  According to the EWG report, "People don't get the high SPF they pay for.  People apply about a quarter of the recommended amount.  So in everyday practice, a product labelled SPF 100 really performs like SPF 3.2, an SPF 30 rating equates to a 2.3 and an SPF 15 translates to 2."
The report cites that the use of oxybenzone, in sunscreen, is a health concern.  Oxybenzone is a chemical which penetrates the skin, enters the bloodstream and disrupts hormones.
Even though these concerns have been floating around for a number of years this report contains a controversial new concern.  Many popular sunscreens may, actually, cause cancer.
Newly discovered research indicates that vitamin A added to many sunscreen products may act as a catalyst to the cancer it's meant to protect against.
Vitamin A is added to sunscreen as an anti-oxident.  It is supposed to help slow the signs of aging in skin but may actually accelerate the growth of malignant skin cells.
The EWG report claims that the research was conducted by the Food and Drug Administration in 2000 and that, since then, the FDA has been sitting on the information.  The FDA denies this accusation.
The report states that, "In that yearlong study, tumors and lesions developed up to 21 percent faster in lab animals coated in a vitamin A-laced cream than animals treated with a vitamin-free cream."
Read the ingredient list on sunscreen before purchasing it.  The vitamin A derivatives to look for are retinol and retinyl palmitate.
The best protection against the sun is avoidance.  Limit the time children spend in the sun during the peak hours of 10 a.m. to 4 p.m.  Dress them in a hat, long sleeves and long pants and seek out the shade whenever possible. – Jen R, Staff Writer
Related Articles:
---