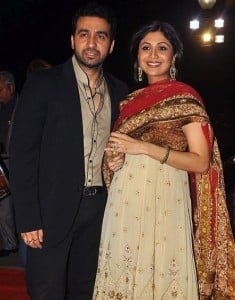 The wait is finally over for Bollywood actor Shilpa Shetty and her husband Raj Kundra. Shilpa gave birth to a beautiful baby boy early Monday morning.
A friend to the Kundra family said,
"The baby and mother are doing fine. Shilpa`s husband Raj Kundra was by Shilpa`s side from the beginning till the time she was admitted till her delivery at the break of dawn. It was only after he saw the baby that he finally left home to go and rest. Raj and his family and Shilpa`s entire family, including mother Sunanda and sister Shamita, were present.
The baby was delivered at the Hinduja Hospital in Mumbai according to the source but he wasn't not due until next month.
"Dr. Kiran Coelho delivered the baby at a healthcare hospital in Khar. Though Shilpa was due any day, on Sunday she had gone for a normal check up but the doctors admitted her immediately as the contractions had begun."
New father Raj was quick to announce about the baby's arrival through on twitter writing,
"God has blessed us with a beautiful baby boy. Both mother and baby are fine. I am thrilled to bits."

"A big thank you to my wife @TheShilpaShetty for the bestest gift ever, DR Kiran Cohelo and all the staff at Hinduja Hospital," he added.
It also seems that the couple is referring to the newborn as Baby K for now.
New mom Shilpa tweeted in the evening saying,
"Can't believe am a mother now! Ecstatic is an understatement. Thank you so much for all the good wishes and love all of you have bestowed us and Baby K,"
Shilpa and Raj got married in 2009. She announced her pregnancy in December last year.
Replying to the numerous congratulatory messages that the couple are receiving Raj said,
"Thank you all for your love and wishes for our new born. Both mum and Baby K are resting. Our Parents now turn grand parents.

"My son is a blessing from God! This is the single biggest biological change a man can go through in his entire lifetime," he added.
Congratulations to the proud parents!
---