Mom-to-be Ivanka Trump was spotted chatting on the phone while walking down 5th Avenue yesterday.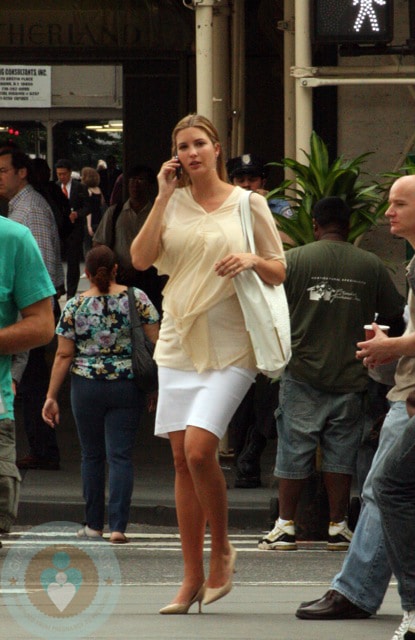 The real estate heiress and fashion entrepreneur recently revealed she is expecting a baby girl. Because she is so tall it's hard to see from these pictures that she is 9 months pregnant.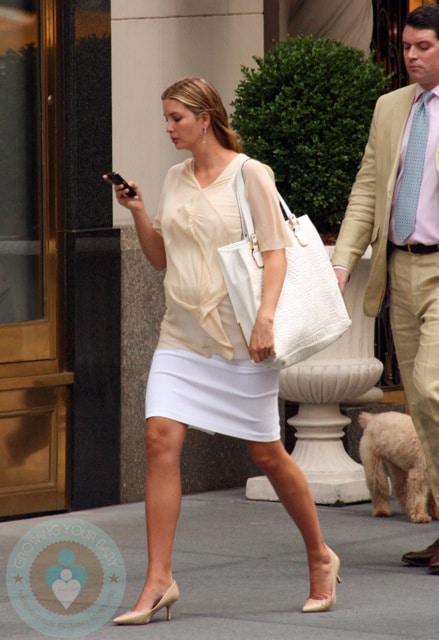 Due on July 14th, Ivanka told Harper's Bazarre shes doing her due diligence to prep for baby and also planning a bit ahead.
"I do have a bit of first-time-mom syndrome," she admits, chuckling over the piles of books on pregnancy, mothering, and early-childhood development she's assigned herself. "I'm already on what I should be doing when she is three and when I should introduce new languages," including French and Mandarin Chinese.
The hard working mom-to-be had hoped to be back to work 2 weeks postpartum until she realized how frequently a newborn must be fed.
"I was in total shock. I work so close [to home] that I figured I'd return to work and the baby nurse would bring the baby to me, and I'd run home periodically, and I'd make it work. But every two hours? That's a whole other level," she says. "I'll have to make a nursery at the office."
With just a couple weeks to go Ivanka looks great. She has said that this pregnancy has been easy and without any illness or nausea. She has also admitted she wants more.
"I'd love to have three or four kids," she says, pausing before giving a wry smile. "But my mom always says, 'Speak to me after you have your first.'"
Which is very true as most of us know!
Related Articles:
{SPLASH}
---