An online advertisement for 'J Crew' featuring a five-year-old boy with his toenails painted bright pink has sparked controversy in the parenting community.
The ad, which stars Jenna Lyons, the chain's president and creative director, and her son Beckett, five, shows the doting mom painting her son's toenails under the headline,
"Saturday with Jenna… See how she and son Beckett go off duty in style.'
Below the picture is a quote from Ms Lyons which reads:
'Lucky for me, I ended up with a boy whose favorite color is pink. Toenail painting is way more fun in neon."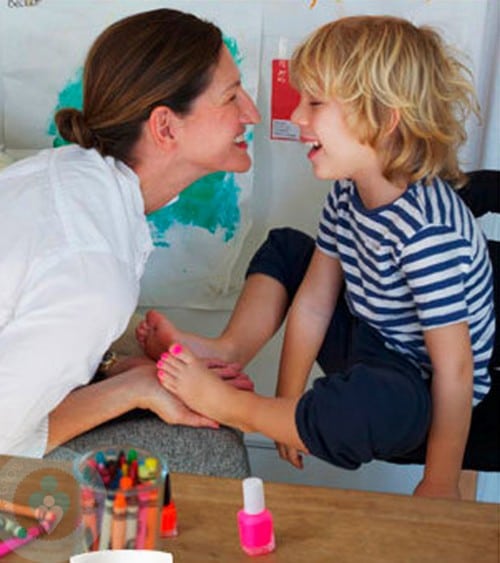 The image was sent to customers last week by e-mail has sparked discussions over gender identity in children.
A number of psychiatrists have slammed the ad, claiming that promotion of such an image 'celebrates transgendered identity'.
But Jenna, has hit back, saying:
"'Lots of kids, say seven and under, might ask their parents for something that would seem to be cross gender.

"I think most parents, especially in the privacy of their own home might think, what's the big deal?'
I agree!  This ad shows a sweet moment between mom and son. Kids are curious, especially when they see their parents doing something. Does this mean that he will want his nails painted now for the rest of his life – no. It also doesn't mean that she has set his masculine compass off by allowing him to wear pink nail polish.
Related Articles:
{PACIFIC COAST NEWS}
---
[ad]