'Mad Men' actress January Jones and her son Xander were spotted heading home after having lunch with some friends in West Hollywood, California on Monday.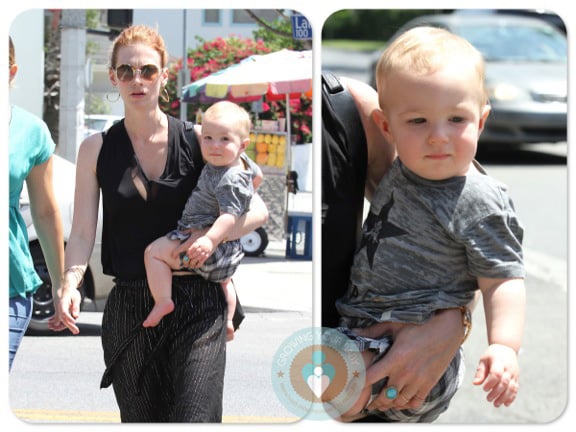 Fresh off her trip to Northern New Mexico, where she filmed 'Sweetwater', the actress sparked rumours over the weekend when she was photographed holding hands with a boy. The notoriously private star has not been linked to a partner since 2010, when she dated Jason Sudekis.
Now off for a few more months before production begins on her hit show Mad Men, January recently revealed that going back to work after Xander was born was easier because she had an onset nursery.
"I had to go back to work when Xander was six or seven weeks old, but I'm lucky that I have a job that I can bring him with me. I was able to bring him to work and nurse, and I could see him when I missed him, which was often even though I was only feet away.

"'Mad Men' has such long hours, and then you go home and you don't sleep. So it was hard."
Going back to work made her feel like a better mother, but she wishes that women were judged for making the choice to go back so quickly.
"I think that as hard as it is, that if you have something that you love outside of being a mother, you should definitely maintain it, because it makes you a better mother.

"I think in America we are often judged [for going back to work], but I think we should always remember that it's OK. It doesn't mean that you are a bad mom."
---
{FAME/FLYNET}
---
[ad]