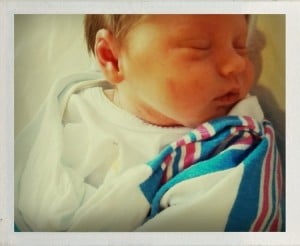 Jenna Bush Hager received a surprise gift even bigger than she'd bargained for at her second, private baby shower; she had a baby.
"I was having a baby shower that day, and I felt the baby move and everybody was staring at me cause it was one of those baby showers where you open gifts," former President George W. Bush's daughter told her Today Show co-anchors. "I kind of started sweating, which is a normal thing, but then all of a sudden, in front of all of my friends, my water broke."
And ever since that moment, Jenna says her daughter, Margaret Laura 'Mila' Hager, has been turning her home upside down.
"I don't even really like the color pink, and there's pink all over my apartment," she said. I like things to be really neat and there's bottles and things all over."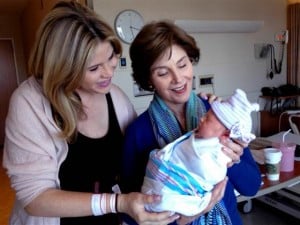 But despite the disarray in her home, the proud momma says she's head-over-heels for her little bundle of joy.
"I've learned that you can love somebody in a totally different way," she said. "I'm close to crying, of course, you know me. I'm totally crazy about her."
And, according to Jenna, husband Henry is just as smitten.
"He was taking a conference call while holding the baby yesterday," she said. "But we're just having so much fun. He read the first book to her that Don Nash gave us. I cried."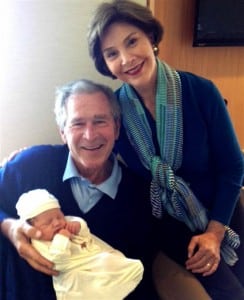 It also seems that little Mila is in for some serious trouble when it comes time for school if the tongue twister moment on The Today Show is any indicator. When introducing the segment, Savannah Guthrie stumbled over the baby girl's name. The autocue read 'Margaret Lauer Hager' instead of 'Margaret Laura Hager,' and Savannah stopped herself just in time before saying the wrong name altogether. Co-anchor Matt Lauer started laughing and Savannah explained the mistake.
"He's laughing because it said 'Margaret Lauer Hager," Savannah said.

"That's a whole other story!" Al Roker replied.

"Is this what she has to look forward to on her first day of school?" Jenna asked. "This is what happens when you name your daughter three names."
Related Articles:
---
[ad]