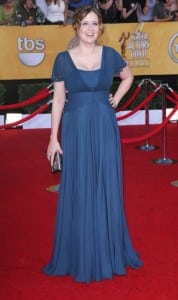 Most celebrities are quick to step out after baby to debut a better than before shape so the world can ooh and ahhh about how amazing they are for looking so fabulous just weeks after delivering. But not Jenna Fisher. While walking the red carpet at the 18th Annual Screen Actors Guild Awards in L.A. Sunday the actress spoke to USMagazine about her fight to regain her pre-pregnancy shape.
"Let me please stand in solidarity with all of the women who are not a size 2 six weeks after leaving the hospital," the 37-year-old actress told the magazine. "I thought, you read all of the stuff in magazines like, 'Oh, I breastfed my baby and I am so skinny now.' I am breast-feeding my baby and I am not getting any skinnier!"
It is widely reported that moms who breastfeed will burn an extra 550 calories a day. It never worked for me and apparently it isn't working for Jenna either, but she's okay with it.
"I think I'm just going to be a little bit bigger for a little bit longer," Fischer said, "and that's fine with me."
Motherhood, she says, has changed her in ways she never imagined.
"I love being a family. I love going from two people to three people, and it has deepened the bond between me and my husband. We love being together, the three of us. Our little unit."
Jenna and her husband Lee Kirk welcomed son Weston on September 24th, 2011.
Related Articles:
---