Jennifer Garner was photographed enjoying a beautiful day out with her kids; Violet, Seraphina and Samuel in Central Park on Friday. Picture perfect, the adorable family strolled through the grounds while holding hands.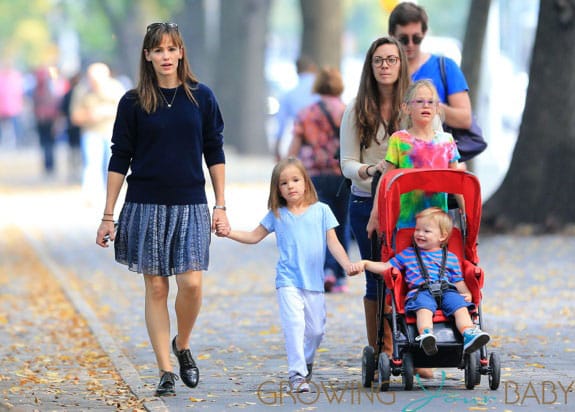 Super cutie Samuel appeared to love the arrangement and giggled with excitement.
Jennifer is in the big apple attending some events.  While at the Save the Children benefit on Tuesday she told the crowd that her oldest daughter gave her some advice to quell her public speaking fears.
"I told my daughter Violet that I was a little nervous to speak in front of a crowd like this, and she gave me a great piece of advice, which was: to imagine that you are all our dogs, Martha Stewart and Gandhi, and to imagine you're all wagging your tails, waiting for a treat, and the treat is my speech! It's really working, Violet, thank you."
For the first time, Violet was in the room to see her mom speak. The actress wanted her to experience the event but wasn't sure she would be able to sit through the whole thing. She was surprised, however, by her excitement.
"My husband and I have never taken our kids to a public event before, but I brought my daughter Violet, because just as I was inspired by my parents, their stories and their quiet acts of service as I grew up, I want her to see the passionate commitment Mark Shriver and Hillary Clinton have to make the world a better place for everyone. A while ago I said to my seven-year-old, Do you want to go and take a break and run around in the lobby? And she said, No, Mom. The speeches are really great. I want to hear everything."
During their time at the park, the Afflecks rode the carousel, grabbed popsicles and played on the swings.  Jen also gave out some kisses.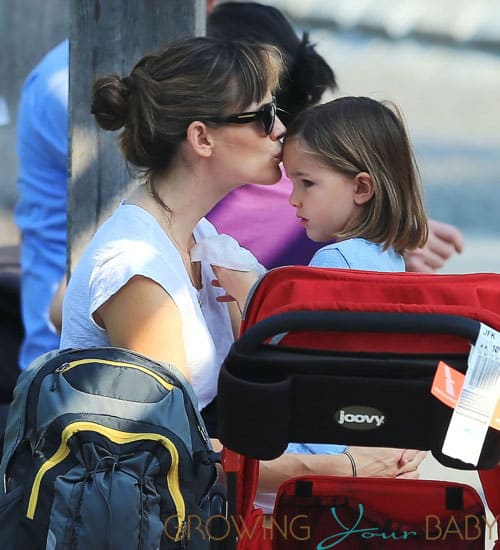 So sweet!
Samuel rode in a limited edition Caboose in red with a black frame.
{SPLASH}
---
[ad]