Jessica Alba and her daughter Honor and Haven were photographed strolling through New York City headed to Central Park on Friday.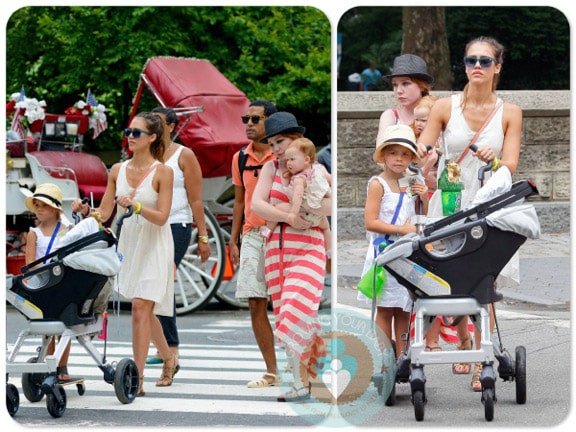 The family has been in the Big Apple, making the most of the city and hitting quite a few parks to keep the girls active.
Jessica has also been making the talk show rounds promoting Honest, the non-toxic bath/skin & household cleaning product company she co-founded last year. On Friday she appeared on Fox and Friends to talk about the Safe Chemicals Act, legislation that would prevent companies from producing toxic products.
"The chemical industry, as it stands now, doesn't really need to test chemicals for their safety before they put them in personal care products. There are lots of potentially very harmful things that could happen like autism, obesity, all sorts of cancers."
The act has been circulating for years, but there is currently a lot of support for it right now, which is putting it into the media spotlight. On Thursday it was passed out of the Senate's Environment and Public Works Committee for the first time. It would require manufacturers to prove a chemical's safety before it is used in commerce; now, chemicals' health effects aren't routinely tested unless exposure causes concern after their widespread use.
Kudos to the actress for going above the issue and teaming up with Christopher Gavigan to create a company that gives families a piece of mind.  Legislation or not, corporations have the choice to use chemical in their products that are harmful.
Earlier in the week Jessica was spotted pushing her girls around the city in phil&ted's new inline stroller – the Dot. Yesterday she switched back to her Orbit G2 with the sidekick installed to give Honor a bit more independence.
{PACIFIC COAST NEWS}
---
[ad]