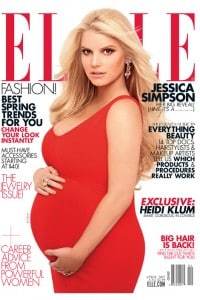 It is a right of passage for most moms who are expecting – capturing their growing belly to be remembered long after your baby has arrived.  For celebrities however, this moment is often photographed for a print publication.
Made famous by Demi Moore on the cover of Vanity Fair in 1991, the iconic shot has been re-done by many pregnant celebrities over the years. The latest mama to bare her bump? Jessica Simpson and she also revealed a little more… she's having a girl!
Due with her first child very soon the singer sat down with ELLE! Magazine's Marshall Sella and talked names, style and tabloid rumours. Here are some highlights:
On her body subconsciously telling her she was pregnant:
"We were goin' to have an all-day drinking binge," Simpson says, not shy about saying so. "Gonna ride our bikes, hang out…do naughty things. But I started feeling this overwhelming guilt. Why would I feel guilt at the idea of going out and having cocktails with my friends?"
On hopes for her daughter's sense of style:
"Ah swear, ah will croak if she asks me for a pair of Nikes instead of Christian Louboutins!  Eric is so athletic. We're gonna have this ath-a-letic girl and I won't even be able to take her shopping."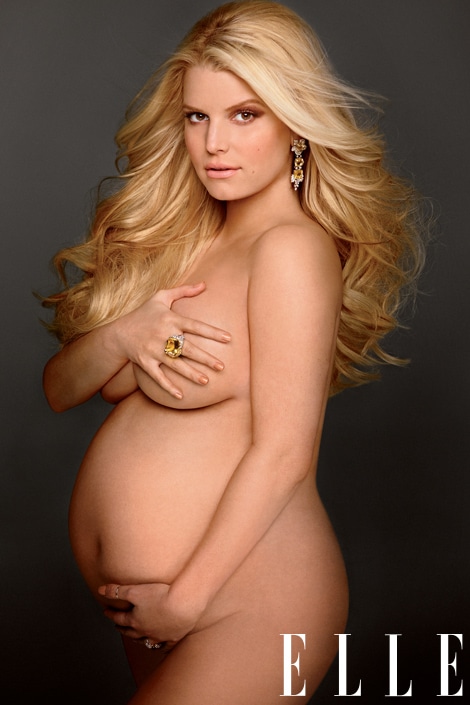 On taking tabloid brutality in stride:
"I'm still standin'," she drawls. "I grew up very strong! You know, my father used to be an adolescent therapist. I remember sitting at his office, watching the girls walkin' in and out. Kids doin' coke at 16…heroin. Pregnant at 14. I could see what I didn't want to be."
The baby's name:
"We're sure it's nothing shocking and nothing you'll have to add to the dictionary. Still, when people hear it, they'll know … why."
We look forward to meeting the new arrival and hearing her name.  For more of the interview please pick up a copy of ELLE! Magazine's April Issue on newsstands March 20.
---
Related Articles:
---
[ad]