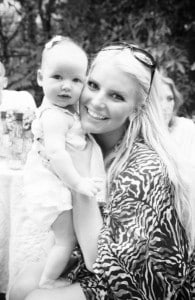 Like a lot of celebrities, Jessica Simpson has had more than her fair share of short-lived, high profile relationships. But things have really turned around over the last couple of years for the singer. Now engaged to NFL player Eric Johnson and mother to 4-month-old Maxwell Drew, friends say she couldn't be happier. And to think, it all started with a party at her house.
"They met at a party at her house and I really didn't think anything of it," said Jessica's best friend, CaCee Cobb. "The next I knew, it was her birthday and we were all going to Italy together."
From that moment on, the pair has been inseparable; that's probably because Jessica realized, right from the start, that she'd snagged a great guy.
"I met a wonderful man," she tweeted on September 5th, 2010.
Jessica's never been afraid to share her relationship with that wonderful man either. On July 31, 2010, she shared a very sweet kiss with her twitter fans. In January of 2011, she tweeted about her man's "assets."
Those moments were all very sweet, but life took an ever sweeter and more meaningful turn when the couple found out they were expecting a baby. Eric and his expecting fiancé joked around while attending the launch of Jessica Simpson Girls at Dylan's Candy Bar in New York City in December of last year. And at a New York event back in November of last year, Jessica was photographed while giving Eric a happy, loving glance.
"I feel like Eric has just a very wholesome and grounded opinion about most everything in life – and he's one of the least judgmental people I know," Jessica told iVillage. "He loves very easily – as do I – and I think that together, [we're] just a really healthy combination."
That "healthy combination" now includes baby Maxwell, who seems to have only added to the couple's happiness. Jessica says that seeing her fiancé with their baby is both sexy and gratifying.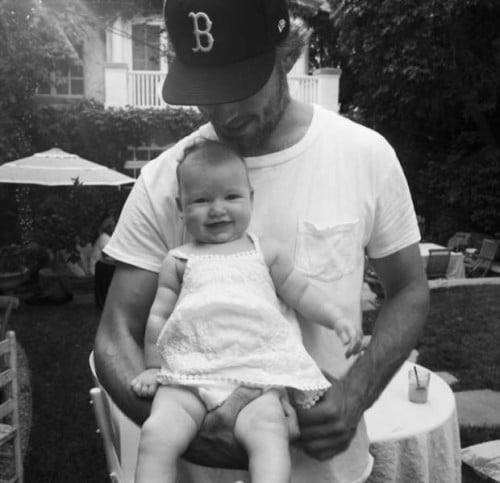 "It's really great to have given him a blessing like this – to be able to bring [Maxwell] into his life," she said. "It makes me feel really good that I could do that for him."
And friends say they couldn't be happier for the couple.
"It's really great to see her with this guy that's just really down to earth, very humble, very smart and literally adores her. I'm happy it's really grown to this, and I couldn't imagine her having a baby with anyone else in this world other than him," CaCee said.
But will one of America's cutest couples ever tie the knot?! Jessica says that, even though they're not rushing down the aisle, she can picture what their big day will be like.
"I know that it's going to be the perfect wedding," she said. "We really haven't planned it, but I see it definitely being a destination thing, and everyone celebrating and being able to dress up."
Of course, not many new parents would have the time to plan a wedding…few can even squeeze in a date night without a baby in tow. Jessica and Eric aren't any different.
"By the time we get to date night, we're too tired!" Jessica said. "Our date nights are pretty much laying in front of the TV watching Sons of Anarchy. We haven't really gone out and had a full-on like, 'I'm getting dressed up' kind of date night…yet."
No matter what the future holds for this adorable family, we wish them the very best!
Related Articles:
---