While making the talk show rounds to promote her new show Fashion Star this week Jessica Simpson showed off her almost there belly and revealed some new details about her pregnancy.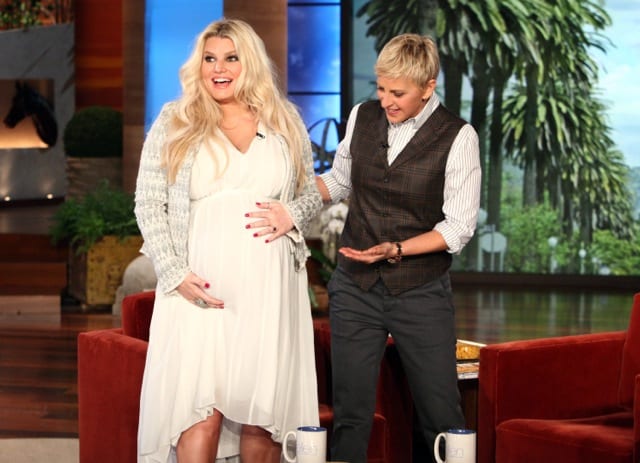 During her appearances on the "Tonight Show" and "The Ellen DeGeneres Show", the singer said she was 'waddling now'. Due in a few weeks Jessica told Jay Leno she was excited to become a mom but worried about the delivery,
"Labor is really going to hurt. I have so much respect for my mom and all the women across the world."
Adding,
'It's a tough thing here and I'm wearing six inch heels, it's a lot of weight to carry on six inches.'
Jessica also shared that she and Eric weren't trying to have a baby but practising,
"We weren't trying, but we were definitely practicing — and not safely practicing," she said, laughing.
Learning she was pregnant she said, 'I freaked out I was so excited, Eric didn't even know I was doing it, he was completely shocked. He cried.'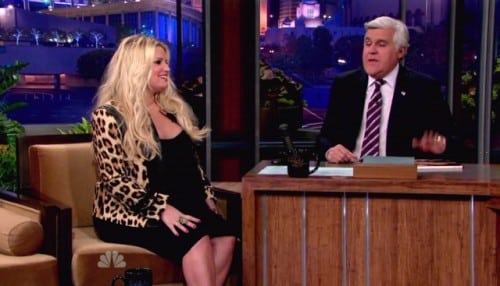 The singer has also killed rumors that she is expecting twins.
"No, it's not twins. I know it looks like it."
I personally think she looks great and give her credit for staying in the public eye during her last few weeks of pregnancy. Everyone carries differently and its important for women(especially those who are also expecting) to see that even celebrities get to be a good size while pregnant as well. It's also worth noting that her OB believes that her baby may hit the 10lb mark!
---
Related Articles:
---