Jillian Michaels was joined at the gym on Sunday by partner Heidi Rhoades and their children; adopted 2 year old Lukensia and new baby boy Phoenix whom Rhoades gave birth to only 3 weeks ago!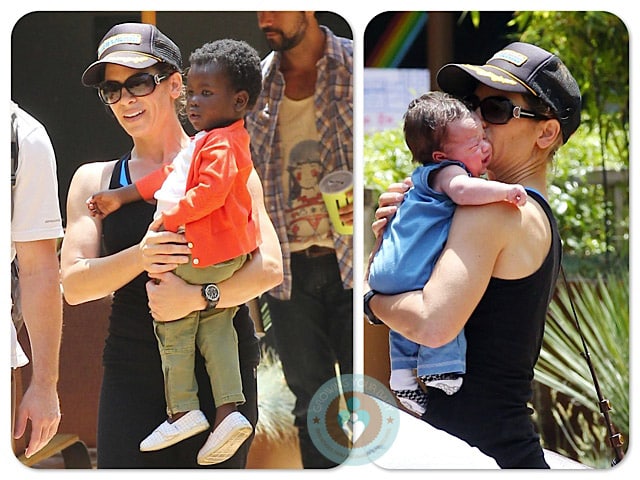 On her show, the daily dose Jillian spoke with her mom about her fears and struggles of becoming a new mom.
Not what she thought it would be, parenting has been a bit of a challenge for the fitness guru and she is feeling like she is making a lot of mistakes.  Lukensia has become very attached to her mom and is having trouble sleeping at night.  Like many of us, Jillian wants to sleep so she has been bringing the toddler into her bed when she gets up too many times.
Her mom was quick to point out that Jillian needs to stop listening to outside influences and trust her gut noting that Lukensia is in a transition period and needs to feel safe.
Because she is two-years-old she also has trust issues, but her mom reminded Jillian that every time she goes out and comes back she re-inforces that she will be always there for her.
I have always loved Jillian's honesty and I like that she is open about her struggles. It's important because there are a lot of parents out there that have adopted children from other countries who are possibly going through the same issues.
For most of us, parenting a toddler comes with a 2 year ramp up that starts with a child that does very little for the first 6 months of life. Jillian has jumped into a time when little ones want to be independent but aren't mature enough to do the things they think they can do.  She needs to stop being so hard on herself, enjoy the small moments and take lots of pictures.  They get big fast!
---
{PACIFIC COAST NEWS}
---
[ad]