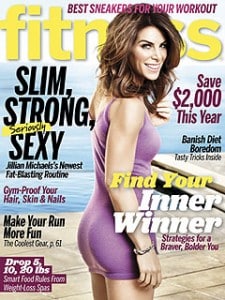 On the show, The Biggest Loser, Jillian Michaels is known for her tough as nails, no excuses attitude towards fitness and personal care. But things have changed for the fitness guru; having two children with her life partner, Heidi Rhoades, has changed her outlook on balancing fitness and family. She recently shared some of those changes with Fitness Magazine.
"I used to say, 'If you're going to exercise, then you do it, and you do it 100 percent.' Now if I've got to answer emails while I work out on the StairMaster, well, then that's what it is," Jillian said. "People can rub my nose in because it is so hard, so hard, to take care of yourself when you're a parent."
Adjusting her expectations to better fit her new life with partner Heidi, baby boy Phoenix and adopted 2-year-old daughter, Lukensia, from Haiti, hasn't been easy for the self-professed control freak. She fully admitted that parenting is a job that will kick your butt!
"I get up at 7 a.m. – after being up all night with the baby – and run around trying to get both kids diaper-changed, dressed, and fed," Jillian said. "Finally I'll shower, and before I know it, I've got 50 emails to answer, and I need to leave for work. At the end of the day, I come home, and I'm like, 'OK, let me bathe you, change you, feed you, read you books, put you to bed – wait, how am I supposed to do all this? Son of a bitch, this is hard!'
But Jillian says she's accepted the challenge, and at the end of the day, she wouldn't want it any other way.
"Every day I tell myself how blessed I am. I can't bitch about it because this is what I want. I just thought I'd be able to manage it better," she said, laughing. "My new motto, 'As long as I'm winning more than I'm losing, I'm still winning."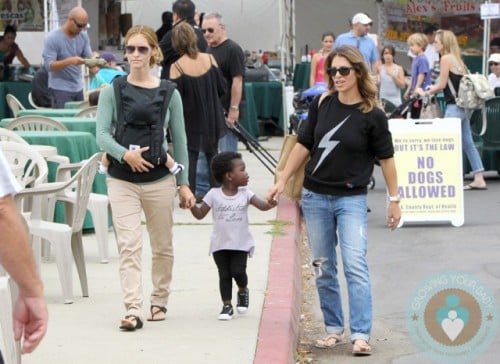 In fact, she encourages all parents to think about how every decision can make a difference – even if the decisions seem small and unimportant.
"I want other moms to know that if you pick the antipasto when everyone's ordering in from the sub shop, it matters. If you can do only 20 minutes on your treadmill at home while you check your email at the same time, it matters," she said. "I used to rip people apart for that, but you just get it in where you can, and that's all you can do."
Jillian also says there are other ways to get exercise in – work your exercise INTO your life.
"Man, it's tough. In my previous life, I could enjoy a long workout, go see a movie, order in," she said. "Right now I'm juggling two sick kids and trying to squeeze in a quick run or shower before one of them starts puking again. It's definitely best for me to work exercise into other things I'm doing that day. I try to bike to work or take a long walk-jog on the beach with the kids."
Related Articles:
---
[ad]