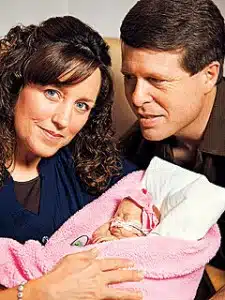 It has been 7 weeks since Josie Duggar's dramatic entrance into the world. Arriving at 25 weeks gestation, weighing just 1lb. 6 ozs, the tiniest Duggar remains in intensive care at Arkansas Children's Hospital to grow and develop.
In an exclusive interview with People Magazine parents Jim Bob and Michelle Duggar talk about their journey, Josie's progress and her arrival, which will be showcased in 19 Kids and Counting: Special Duggar Delivery, airing Jan. 31 on TLC
"Years ago, a baby this small wouldn't have lived an hour," says Jim Bob, 44. "We are so grateful for the ability to help her."
Just before Christmas Jim and Michelle, 43, moved 17 of their other kids (their oldest Josh, 21, and his wife, Anna, 21, have a baby girl and live on their own) to Little Rock, Ark. from their home in Tontitown, Ark., to be closer to Josie.
"It's a miracle she's doing so well," says Jim Bob. Agrees Michelle: "It is incredible what the doctors and nurses can do to save the life of this little person."

It has been an up and down saga of survival for tiny Josie. "Doctors tell us, 'never trust a preemie,' because you can't know what is going to happen," says Jim Bob. "It is a very day-to-day thing. It is the hardest thing we've ever been through."

Josie's difficult birth has brought the family closer together, say Jim Bob and Michelle, and they continue to be grateful for every moment they have with their new daughter.

"We don't know if there is going to be another big hill to go up," she says. "We are grateful for the wonderful days when she has been good. We know at any moment, things could change."
For now, Josie is doing well, weighing in at 2 lbs. 3 oz. She is taking breast milk by feeding tube and appears to only need regular oxygen to breathe.
We look forward to seeing her birth on Sunday night!
Related Articles:
---