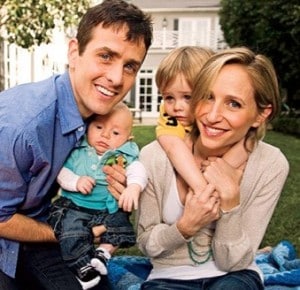 Congratulations are in order for Joey McIntyre and his wife Barrett. The couple are now the proud parents another bundle – a baby girl was born to the couple on Tuesday, according to E! Online.
Kira Katherine McIntyre was born on Tuesday, and she weighed in at seven pounds and three ounces. She is third child for the couple, but their first girl. She joins older brothers Griffin, 3 and Rhys, 17 months.
Joey took to his Twitter shortly after the birth and said the following about his new baby girl:
"A beautiful baby girl with great timing and gorgeous hair."
Joey has a busy summer touring with New Kids on the Block and Backstreet Boys ahead of him!
Related Articles: